February 6, 2015 | Rolf de Bruin
Cellaring wine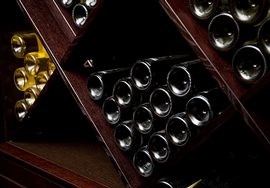 We have been getting a number of inquiries about cellaring our wines. The reality is that most people do not have a professionally built wine cellar that provides ideal aging conditions with temperature and humidity control. If that is the case for you, how can you best cellar wine in your home?
Keep in mind that cellaring conditions become more relevant the longer you cellar. If you are cellaring or storing wine for a few weeks or even a few months, conditions are not as relevant as when you are cellaring wine for 5-7 years. The majority of the wine purchased is consumed within hours or days of the purchase, in which case cellaring is really not relevant. However, knowing that many wines will improve with age, more and more people are looking to purchase wine and age it. Cellaring can improve our enjoyment of the wine.
So if you want to cellar your wine, there are a few considerations to keep in mind: temperature, humidity, position, vibration, and light.
Wine can be cellared at any temperature, but temperatures between 6 degrees Celsius and 18 degrees Celsius is more ideal. With higher temperatures the wine will age quicker, while lower temperatures will slow down the rate of aging. Temperatures can fluctuate throughout the year, where temperatures in the summer can be 18 degrees Celsius and 6 degrees Celsius in the winter. This is not a problem. However, fluctuations during the day should be minimal. So cellaring wine next to your fireplace is usually not such a great idea.
High humidity and storing wine horizontally used to be very important, but this is when all wine was bottled with a natural cork. The use of natural cork has declined in recent years, in favour of synthetic cork and screwcaps. Natural cork needs to be kept moist in order to keep a tight seal. If the cork dries out due to low humidity or when the bottle stands up straight for a long period, the seal may be imperfect and oxygen can enter the bottle, which can spoil the wine. Conversely, screwcaps and synthetic cork are not as picky and therefore storing wine under low humidity and standing up straight are not real issues.
Vibration is said to have a negative impact on wine. Many experts indicate that wine should not be stored in places with continuous vibration, like on top of your refrigerator, so look for a storage location in your home that is relatively stable. However, we also know that a lot of wine is shipped by boat, trains and trucks where it is exposed to a lot of vibration during transit. To address this, let the wine rest after purchase to allow it to settle.
Some people own a wine fridge, which is a special refrigerator that can maintain a temperature between 4-18 degrees Celsius. As a comparison, a normal fridge is not able to maintain a temperature above 10 degrees Celsius. A wine fridge often has two sections, one section for white wines with a lower temperature and one section for red wines with a higher temperature. Wine fridges are great because it means you can have wine ready to open at the perfect temperature. Using a wine fridge also means you can avoid having to stick your white wine in the freezer for half an hour to chill it. Have you ever done that and then forgotten all about it, only to find a nice ice wine surprise the next day? Because of the vibration your wine will experience in a wine fridge, I suggest that you don't store wine in a wine fridge for an extended amount of time. If you plan to keep wine for a number of years, it is likely to fair better in the back of a dark closet than inside a wine fridge.
Another factor to keep in mind is that wine will deteriorate under direct sunlight. This is why wine is often in green or brown bottles. However, even these darker bottles will not prevent spoilage due to sunlight. A few hours of sunlight is surely not going to have a major impact, but aging your fine red wines in the window sill is not recommended.
It's also important to note that when aging red wine, sediment can develop. Sediment in red wine occurs naturally and occurs in most red wines. The longer you age red wine, the more sediment you should expect. In unfiltered red wines that have not been stabilized, more sediment can occur, while there may be less sediment in more commercially produced wines. After aging these wines, set the bottle up straight for at least 24 hours, to allow the sediment to fall to the bottom of the bottle prior to opening the bottle. Then pour very carefully or better yet, decant the bottle to avoid pouring sediment into your glasses. I rarely discard the sediment, but pour the last bit in my own glass and savour the last drops of that special wine that's been aged for so long.
Do you think these rules about cellaring your wine really helps? I read an interesting article about aging conditions a while ago. I have not seen a lot of scientific research where side-by-side comparisons have been done to determine the cellaring conditions on the wine, so for now I follow the tips when I can, but I don't obsess about them.
Wine is pretty robust when it is young. It can stand up to a lot of abuse. However, if I had a 1947 Château Margaux or another special bottle, I would likely follow all of the rules to give it the best chance to age beautifully.
Oh and by the way, we are cellaring some of our vintages in our winery cellar (under pretty good conditions). Regularly, we release some of these older library wines to our Discovery Club members so you can enjoy some exceptionally aged wines without the need for your own cellar.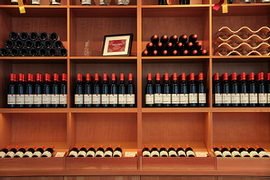 Comments
Rhea Jain
@ Jun 16, 2017 at 6:18 AM
It is one of the awesome site in my view as far as my knowledge is concerned about this kind website. Thanks for sharing! http://packers-and-movers-delhi.in/
Dion
@ Sep 15, 2017 at 8:11 PM
Thanks For This
Dion
@ Sep 20, 2017 at 7:45 PM
Thanks For This
TolickGype
@ Sep 30, 2017 at 4:17 AM
Black Desert игра 2015 года, созданная в жанре MMORPG нового поколения и вобравшая в себя лучшие качества знаменитых онлайн-хитов. Ультрасовременная графика, детально проработанные персонажи и реалистичный игровой мир позволят с головой погрузиться в захватывающую эпоху Средневековья https://goo.gl/Nop3eP Reborn – это новая клиентская онлайн-игра, которая перенесет игрока в мир Асгарда, наполненного полчищами монстров и захватывающими приключениями. https://goo.gl/K2Fxn7 Если рега в реборне не работает, вставьте в другой браузер
check cashing places near me
@ Oct 8, 2017 at 12:05 AM
It is terribly arduous to say once exactly ought to be compelled to cash your check. typically it's reaching to really hard to cash if it isn't official hours. That's why we tend to tend to feel you superabundant and twenty four hour check cashing services. http://www.unitedcheckcashing.com/check-cashing
Packers and movers bangalore
@ Oct 13, 2017 at 2:58 AM
Packers and Movers Bangalore 100% Affordable Local Shifting Services. Compare Charges, Get Free Best Quotes Packers and Movers in Bangalore, Urban and Domestic Household Relocation @ http://Packers-and-Movers-Bangalore.in/ Local packers and movers in bangalore # http://packers-and-movers-bangalore.in/local-shifting-in-bangalore
Packers and movers bangalore
@ Oct 13, 2017 at 3:02 AM
Packers and movers Hsr layout bangalore @ http://packers-and-movers-bangalore.in/packers-and-movers-hsr-layout-bangalore Packers and movers whitefield bangalore @ http://packers-and-movers-bangalore.in/packers-and-movers-whitefield-bangalore Packers And Movers Koramangala Bangalore @ http://packers-and-movers-bangalore.in/packers-and-movers-koramangala-bangalore Packers And Movers Indiranagar Bangalore @ http://packers-and-movers-bangalore.in/packers-and-movers-indiranagar-bangalore Packers and Movers KR Puram Bangalore @ http://packers-and-movers-bangalore.in/packers-and-movers-kr-puram-bangalore Packers and movers electronic city bangalore @ http://packers-and-movers-bangalore.in/packers-and-movers-electronic-city-bangalore Packers and movers marathahalli bangalore @ http://packers-and-movers-bangalore.in/packers-and-movers-marathahalli-bangalore
Movers and Packers in gurgaon
@ Nov 16, 2017 at 3:05 AM
Sehdev packers and Movers gurgaon provide the excellent packers and movers service in Gurgaon. We offer the value added Household relocation services, office shifting service etc
packers and movers marathahalli bangalore
@ Nov 16, 2017 at 3:06 AM
Agarwal cargo provide the packers and movers marathahalli Bangalore is the top rated moving company that only makes sure of satisfying to every customer need .
check cashing New Castle
@ Nov 29, 2017 at 8:04 AM
Our work is opened 24/7. So, you will be ready http://www.unitedcheckcashing.com to notice U.S.A.
Best Packers Movers Vadodara
@ Dec 4, 2017 at 1:21 AM
Hi, nice post. I've been wondering about this issue, so thanks for posting. I'll definitely return to your site.I like how you sent your information with excellent detail. Keep up the great work here.
denver divorce lawyer
@ Dec 23, 2017 at 8:15 AM
Where fundamental, an open subsidizing endorsement will be connected. Court charges will likewise paid when required. As indicated by separate laws, the judge will at last settle on the choice with respect to the destiny of the two gatherings.
Ritu Somani
@ Jan 8, 2018 at 1:43 AM
Packers And Movers Hyderabad Local Household Shifting Service, Get Free Best Price Quotes Local Packers and Movers in Hyderabad List, Compare Charges, Save Money And Time @ https://PackersMoversHyderabadCity.in/
Ritu Somani
@ Jan 8, 2018 at 1:43 AM
Packers And Movers Hyderabad To Bangalore @ https://packersmovershyderabadcity.in/packers-and-movers-hyderabad-to-bangalore
Packers And Movers Hyderabad to Ahmedabad @ https://packersmovershyderabadcity.in/packers-and-movers-hyderabad-to-ahmedabad
Packers And Movers Hyderabad to Jaipur @ https://packersmovershyderabadcity.in/packers-and-movers-hyderabad-to-jaipur
Packers And Movers Hyderabad to Delhi @ https://packersmovershyderabadcity.in/packers-and-movers-hyderabad-to-delhi
Packers And Movers Hyderabad to Kolkata @ https://packersmovershyderabadcity.in/packers-and-movers-hyderabad-to-kolkata
Packers And Movers Hyderabad to Chennai @ https://packersmovershyderabadcity.in/packers-and-movers-hyderabad-to-chennai
Packers And Movers Hyderabad to Pune @ https://packersmovershyderabadcity.in/packers-and-movers-hyderabad-to-pune
Packers And Movers Hyderabad to Bhubaneswar @ https://packersmovershyderabadcity.in/packers-and-movers-hyderabad-to-bhubaneswar
Packers And Movers Hyderabad to Bhopal @ https://packersmovershyderabadcity.in/packers-and-movers-hyderabad-to-bhopal
Packers And Movers Hyderabad to Lucknow @ https://packersmovershyderabadcity.in/packers-and-movers-hyderabad-to-lucknow
Packers And Movers Hyderabad to Chandigarh @ https://packersmovershyderabadcity.in/packers-and-movers-hyderabad-to-chandigarh
Packers And Movers Hyderabad to Patna @ https://packersmovershyderabadcity.in/packers-and-movers-hyderabad-to-patna
Packers And Movers Hyderabad to Mumbai @ https://packersmovershyderabadcity.in/packers-and-movers-hyderabad-to-mumbai
Packers And Movers Hyderabad to Gurgaon @ https://packersmovershyderabadcity.in/packers-and-movers-hyderabad-to-gurgaon
Packers And Movers Hyderabad to Haridwar @ https://packersmovershyderabadcity.in/packers-and-movers-hyderabad-to-haridwar
Ritu Somani
@ Jan 8, 2018 at 1:44 AM
Packers And Movers kondapur Hyderabad @ https://packersmovershyderabadcity.in/packers-and-movers-kondapur-hyderabad Packers And Movers Hitech City Hyderabad @ https://packersmovershyderabadcity.in/packers-and-movers-hitech-city-hyderabad Packers And Movers Lingampally Hyderabad @ https://packersmovershyderabadcity.in/packers-and-movers-lingampally-hyderabad Packers And Movers Kukatpally Hyderabad @ https://packersmovershyderabadcity.in/packers-and-movers-kukatpally-hyderabad Packers And Movers KPHB Colony @ https://packersmovershyderabadcity.in/packers-and-movers-kphb-colony-hyderabad Packers And Movers madhapur Hyderabad @ https://packersmovershyderabadcity.in/packers-and-movers-madhapur-hyderabad Packers And Movers gachibowli Hyderabad @ https://packersmovershyderabadcity.in/packers-and-movers-gachibowli-hyderabad Packers And Movers Chandanagar @ https://packersmovershyderabadcity.in/packers-and-movers-chandanagar-hyderabad Packers And Movers Miyapur @ https://packersmovershyderabadcity.in/packers-and-movers-miyapur-hyderabad Packers And Movers Anantapur @ https://packersmovershyderabadcity.in/packers-and-movers-anantapur Packers And Movers Chittoor @ https://packersmovershyderabadcity.in/packers-and-movers-chittoor Packers And Movers Cuddapah @ https://packersmovershyderabadcity.in/packers-and-movers-cuddapah Packers And Movers Guntur @ https://packersmovershyderabadcity.in/packers-and-movers-guntur Packers And Movers Krishna @ https://packersmovershyderabadcity.in/packers-and-movers-krishna Packers And Movers Kurnool @ https://packersmovershyderabadcity.in/packers-and-movers-kurnool Packers And Movers East Godavari @ https://packersmovershyderabadcity.in/packers-and-movers-east-godavari Packers And Movers Nellore @ https://packersmovershyderabadcity.in/packers-and-movers-nellore Packers And Movers Prakasam @ https://packersmovershyderabadcity.in/packers-and-movers-prakasam Packers And Movers Srikakulam @ https://packersmovershyderabadcity.in/packers-and-movers-srikakulam Packers And Movers Visakhapatnam @ https://packersmovershyderabadcity.in/packers-and-movers-visakhapatnam Packers And Movers Vizianagaram @ https://packersmovershyderabadcity.in/packers-and-movers-vizianagaram