News
Fort Berens Estate Winery Riesling Wins Best White Wine at Pacific Rim Wine Competition
Riesling 2018 GOLD – Best in Class & Best White Pacific Rim Wine Competition 2019 Riesling Reserve 2017 GOLD – National Wine Awards 2018 Riesling 2017 GOLD – British Columbia Lieutenant Governor's Wine Awards 2018 Riesling 2016 GOLD – Los Angeles International Wine Competition 2017 GOLD – Pacific Rim Wine Competition 2017 Dry Riesling 2016 GOLD – Los Angeles International Wine Competition 2017 GOLD – Pacific Rim Wine Competition 2017 Riesling 2015 Double Gold - San Francisco International Wine Competition 2016 Riesling 2013 GOLD – Pacific Rim Wine Competition 2014 Riesling 2012 LIEUTENANT GOVERNOR'S AWARD for Excellence in British Columbia Wines, 2014 GOLD & BEST IN CLASS (91 points) – Los Angeles International Wine & Spirits Competition 2013 Riesling 2011 GOLD and BEST IN CLASS – Pacific Rim Wine Competition 2012] LILLOOET, BC – The Riesling 2018 from Fort Berens Estate Winery in Lillooet has just received top honours. It was named Best White Wine at the 2019 Pacific Rim Wine Competition. After winning Best in Class for the Riesling category, it went on to be awarded the Best White Wine in the entire competition.
Rolf de Bruin, co-founder and co-owner of Fort Berens shared, "We are honoured and humbled to see our Riesling recognized with this outstanding award from such a prestigious international wine competition. We could not be more proud that this Lillooet Riesling was judged to be the top of its class in this international wine competition. In addition to the Best White Wine award for the Riesling 2018, we were also awarded a Double Gold for the 2018 Riesling Reserve at this competition."
Since 1985, the Pacific Rim Wine Competition has held a two-day, blind-tasting event with an esteemed panel of international judges representing all aspects of the wine industry. The judges evaluate the wines and award medals accordingly. This competition celebrates high-quality wines of all styles, from all regions of the world. The 2019 competition featured 1,000 wines from wineries around the world.
While there were many Canadian wineries that received a variety of medals in the competition, the Fort Berens Riesling 2018 was the only Canadian wine to be included in the list of the top 5 wines of the competition.
Rolf explained, "As the first winery in Lillooet, we see it as our duty to showcase the region and our unique terroir. From early days, we knew that the Riesling grape was able to express the Lillooet terroir. Our 2012 Riesling won the very prestigious 2014 Lieutenant Governor's Award for Excellence in British Columbia Wines. Since that time, our Rieslings have been awarded numerous prizes along the way. See the sidebar for a list of all Gold medals awarded to Fort Berens Riesling. These outstanding results reaffirm that Riesling is one of the signature grapes for our winery and the Lillooet region. The region experiences huge diurnal variations during late summer and early fall. These swings from high daytime temperatures to cool nights preserve the fresh fruit qualities of our grapes. The retained acidity allows for superb balancing of residual sugar at a number of different points, whether the wine is dry, off-dry or medium sweet. The versatility of the Riesling grape combined with the excellent growing conditions in Lillooet, create an award-winning combination."
Fort Berens was awarded a number of medals at the 2019 Pacific Rim Wine Competition, including:
Riesling 2018 – Gold, Best in Class, Best White Wine
Riesling Reserve 2018 – Double Gold
Rosé 2018 – Double Gold
Cabernet Franc Reserve 2016 – Gold
Chardonnay 2017 – Silver
Pinot Gris 2018 – Bronze
Pinot Noir 2016 – Bronze
Fort Berens wines are available for sale at the winery, online, and at fine liquor stores and restaurants around BC.
For the full list of winners visit: http://pacificrimwinecomp.com/pacific-rim-wine-competition-results/
Fort Berens Estate Winery is a culmination of the dreams, vision and pioneering spirit of several entrepreneurs – Heleen Pannekoek, Rolf de Bruin, Hugh Agro, Sean Harvey, Jason Neal, John McConnell, Tara Christie, Raymond Rae, Joseph Neal, Dan Barnholden and Patrick & Caroline Downey. The owners of Fort Berens share a common belief in the incredible winemaking potential of the area and a shared vision to make Fort Berens into one of Canada's leading producers of fine wine. With its vineyards on sagebrush covered benchland along the Fraser River at the base of towering mountains, Fort Berens embraces the spirit of Lillooet. Discover Fort Berens Estate Winery, Lillooet's first winery, in BC's newest wine region and explore 150 years of pioneering spirit. For more information, call 1.877.956.7768, visit www.FortBerens.ca, or follow them on Facebook, Twitter and Instagram.

FOR IMMEDIATE RELEASE
March 29, 2018
LILLOOET, BC – The Kitchen at Fort Berens Estate Winery will reopen for the season on May 18th under new leadership of Executive Chef Jean-Sébastien (JS) Ouellette. Rolf de Bruin, co-founder and co-owner of Fort Berens explained, "JS was our Sous Chef for the last 2 years, and we are very pleased that he is taking over the leadership of our culinary team for this new season."
JS completed culinary school and worked at Michelin star restaurants in France and Italy. In France, surrounded by vineyards, he developed a love and appreciation for wine, and how wine and food together create the meal. JS worked in the Italian Dolomites in a tiny village called Plois d'Alpago, where he lived in the mountains and worked with produce from their 2-acre garden and meat from the neighbours. JS spent 5 years in Whistler, working in a series of positions at Nita Lake Lodge before making the move to Fort Berens.
"I fell in love with Lillooet. It is perfect for me. It's a perfect blend of my passions. Small town living, the mountains and vineyards, and working with locally-grown and produced ingredients," explained JS.
JS and the culinary team are passionate about featuring locally-sourced ingredients and working with local farmers to ensure that fresh, high quality local food is served. Guests experience the full farm-to-table experience at The Kitchen at Fort Berens with an ever-changing menu that reflects the availability of the freshest produce throughout the season.
The Kitchen at Fort Berens will be open for lunch daily throughout the season from May 18th through Thanksgiving. This year they will also be featuring a la carte dinner service on the weekends, special wine-paired dinners, tapas and music nights, bootcamps and more. Follow them on Facebook or check out their website to stay up-to-date on all of the upcoming events.

For further information, please contact:
Kim Lawton
DogLeg Marketing & Business Solutions
250.488.0878
klawton@DogLegMarketing.ca

FOR IMMEDIATE RELEASE
March 29, 2018
LILLOOET, BC – There is lots of activity happening over at Fort Berens Estate Winery these days.
Rolf de Bruin, co-founder and co-owner of Fort Berens explained, "After nine years of tending our first vineyard, experimenting and learning, we are now working on our second vineyard, which we currently refer to as our north field. We have plowed the field, and we have started planting our second vineyard, so things are getting very real and exciting."
The north field vineyard will represent a total of about 18 new acres to be planted in 2018 and 2019. In 2018, planting will include 4 acres of Merlot and 5 acres of Cabernet Franc. Planting will continue in 2019 with 3.5 acres of Riesling, 2 acres of Cabernet Sauvignon,1.5 acres of Gruner Veltliner, and 2 acres of Merlot.
Rolf continued, "This is exciting news for our emerging wine region. The expansion of the vineyard reflects our confidence in the Lillooet area growing region. It also shows our determination and commitment to produce wines from our estate and from grapes from other vineyards in the Lillooet region."
This vineyard expansion means that in the years ahead there will be more Lillooet grown grapes, and therefore more wine will be made here in Lillooet. This will be a welcomed response for wine lovers, as the demand continues to increase for wines from Fort Berens.
Currently, the team at Fort Berens is looking for a new name for the north field vineyard. If you have any suggestions, comment on their Facebook post or email them to info@fortberens.ca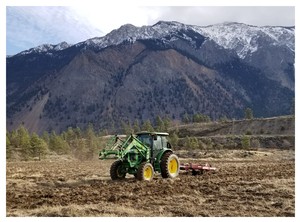 For further information, please contact:
Kim Lawton
DogLeg Marketing & Business Solutions
250.488.0878
klawton@DogLegMarketing.ca