News
Fort Berens Estate Winery Riesling Wins Best White Wine at Pacific Rim Wine Competition
Riesling 2018 GOLD – Best in Class & Best White Pacific Rim Wine Competition 2019 Riesling Reserve 2017 GOLD – National Wine Awards 2018 Riesling 2017 GOLD – British Columbia Lieutenant Governor's Wine Awards 2018 Riesling 2016 GOLD – Los Angeles International Wine Competition 2017 GOLD – Pacific Rim Wine Competition 2017 Dry Riesling 2016 GOLD – Los Angeles International Wine Competition 2017 GOLD – Pacific Rim Wine Competition 2017 Riesling 2015 Double Gold - San Francisco International Wine Competition 2016 Riesling 2013 GOLD – Pacific Rim Wine Competition 2014 Riesling 2012 LIEUTENANT GOVERNOR'S AWARD for Excellence in British Columbia Wines, 2014 GOLD & BEST IN CLASS (91 points) – Los Angeles International Wine & Spirits Competition 2013 Riesling 2011 GOLD and BEST IN CLASS – Pacific Rim Wine Competition 2012] LILLOOET, BC – The Riesling 2018 from Fort Berens Estate Winery in Lillooet has just received top honours. It was named Best White Wine at the 2019 Pacific Rim Wine Competition. After winning Best in Class for the Riesling category, it went on to be awarded the Best White Wine in the entire competition.
Rolf de Bruin, co-founder and co-owner of Fort Berens shared, "We are honoured and humbled to see our Riesling recognized with this outstanding award from such a prestigious international wine competition. We could not be more proud that this Lillooet Riesling was judged to be the top of its class in this international wine competition. In addition to the Best White Wine award for the Riesling 2018, we were also awarded a Double Gold for the 2018 Riesling Reserve at this competition."
Since 1985, the Pacific Rim Wine Competition has held a two-day, blind-tasting event with an esteemed panel of international judges representing all aspects of the wine industry. The judges evaluate the wines and award medals accordingly. This competition celebrates high-quality wines of all styles, from all regions of the world. The 2019 competition featured 1,000 wines from wineries around the world.
While there were many Canadian wineries that received a variety of medals in the competition, the Fort Berens Riesling 2018 was the only Canadian wine to be included in the list of the top 5 wines of the competition.
Rolf explained, "As the first winery in Lillooet, we see it as our duty to showcase the region and our unique terroir. From early days, we knew that the Riesling grape was able to express the Lillooet terroir. Our 2012 Riesling won the very prestigious 2014 Lieutenant Governor's Award for Excellence in British Columbia Wines. Since that time, our Rieslings have been awarded numerous prizes along the way. See the sidebar for a list of all Gold medals awarded to Fort Berens Riesling. These outstanding results reaffirm that Riesling is one of the signature grapes for our winery and the Lillooet region. The region experiences huge diurnal variations during late summer and early fall. These swings from high daytime temperatures to cool nights preserve the fresh fruit qualities of our grapes. The retained acidity allows for superb balancing of residual sugar at a number of different points, whether the wine is dry, off-dry or medium sweet. The versatility of the Riesling grape combined with the excellent growing conditions in Lillooet, create an award-winning combination."
Fort Berens was awarded a number of medals at the 2019 Pacific Rim Wine Competition, including:
Riesling 2018 – Gold, Best in Class, Best White Wine
Riesling Reserve 2018 – Double Gold
Rosé 2018 – Double Gold
Cabernet Franc Reserve 2016 – Gold
Chardonnay 2017 – Silver
Pinot Gris 2018 – Bronze
Pinot Noir 2016 – Bronze
Fort Berens wines are available for sale at the winery, online, and at fine liquor stores and restaurants around BC.
For the full list of winners visit: http://pacificrimwinecomp.com/pacific-rim-wine-competition-results/
Fort Berens Estate Winery is a culmination of the dreams, vision and pioneering spirit of several entrepreneurs – Heleen Pannekoek, Rolf de Bruin, Hugh Agro, Sean Harvey, Jason Neal, John McConnell, Tara Christie, Raymond Rae, Joseph Neal, Dan Barnholden and Patrick & Caroline Downey. The owners of Fort Berens share a common belief in the incredible winemaking potential of the area and a shared vision to make Fort Berens into one of Canada's leading producers of fine wine. With its vineyards on sagebrush covered benchland along the Fraser River at the base of towering mountains, Fort Berens embraces the spirit of Lillooet. Discover Fort Berens Estate Winery, Lillooet's first winery, in BC's newest wine region and explore 150 years of pioneering spirit. For more information, call 1.877.956.7768, visit www.FortBerens.ca, or follow them on Facebook, Twitter and Instagram.

Fort Berens Reserve Wine Pairings
At Fort Berens, we offer a wide range of wines each with a distinct style. Over the years, we have been able to cultivate and refine our approaches in the vineyard and cellar and have expanded our collection to include a full series of small lot, ultra premium reserve wines which express the unique terroir of our region. We have currated for you here a quick reference to some food pairing suggestions that we think would work wonderfully with these wines.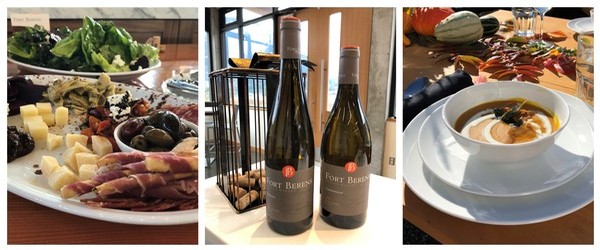 Chardonnay Reserve (White Gold)
Wine style: dry, crisp, with juicy acidity, fruit forward, medium body, oaked
Food pairings: Enjoy with a stuffed roast chicken, potatoes au gratin, or for the ultimate luxury, lobster.
Riesling Reserve
Wine style: off-dry, crisp, with higher acidity and minerality, fruit forward, concentrated, medium body
Food pairings: Enjoy the Riesling Reserve with spicy Pad Thai, cheese fondue, or a rich and creamy Alfredo sauce over linguine.
Red Gold
Wine style: rich, velvety, full bodied, long and intense finish, plush tannins
Food pairings: Red Gold is the perfect wine to pair with your finest cuts of beef or big game. Enjoy this bold wine with a well-marbeled porterhouse steak or hearty moose stew.
Pinot Noir Reserve
Wine style: concentrated, savoury earthy flavours, bright cherry fruit, elegant, long finish
Food pairings: While a fireplace is not required, it is certainly recommended while enjoying this wine paired with a fire-roasted tomato lentil stew, grilled salmon, or roasted duck.
Cabernet Franc Reserve
Wine style: opulent blueberry and blackberry aromas, purple floral perfume, medium body, ripe tannins, long finish
Food pairings: This wine pairs beautifully with lamb, duck, or tomato and basil pizza.
Meritage Reserve
Wine style: Earthy, intensly structured, powerful, high acidity and tannins, boldy flavourful
Food pairings: Enjoy this wine with roasted lamb, spaghetti bolognese, or lasagna.