Our Vineyards
Hot sunny days, cool nights and the nearby cloud-catching Coast Mountains make Lillooet an ideal climate for growing grapes.
Our vineyards
We currently have 37 acres of vineyard in production. Our 20-acre Dry Creek vineyard was planted in 2009, followed by our 17-acre Red Rock vineyard in 2018-2019. We have the following varietals:
| | | | |
| --- | --- | --- | --- |
| White | Acres | Red | Acres |
| Riesling | 7.9 | Merlot | 8.2 |
| Chardonnay | 2.9 | Cabernet Franc | 8.0 |
| Pinot Gris | 2.8 | Pinot Noir | 4.3 |
| Grüner Veltliner | 1.0 | Cabernet Sauvignon | 1.9 |
We chose to plant these varietals based on advice from industry experts Harry McWatters and Richard Cleave and by studying results from former Lillooet Mayor Christ'l Roshard and her husband Doug Robson's experimental vineyard in Lillooet. We factored in learnings from The Lillooet Grape Project including weather tracking data, average heat units and the growing season to help us select these varietals.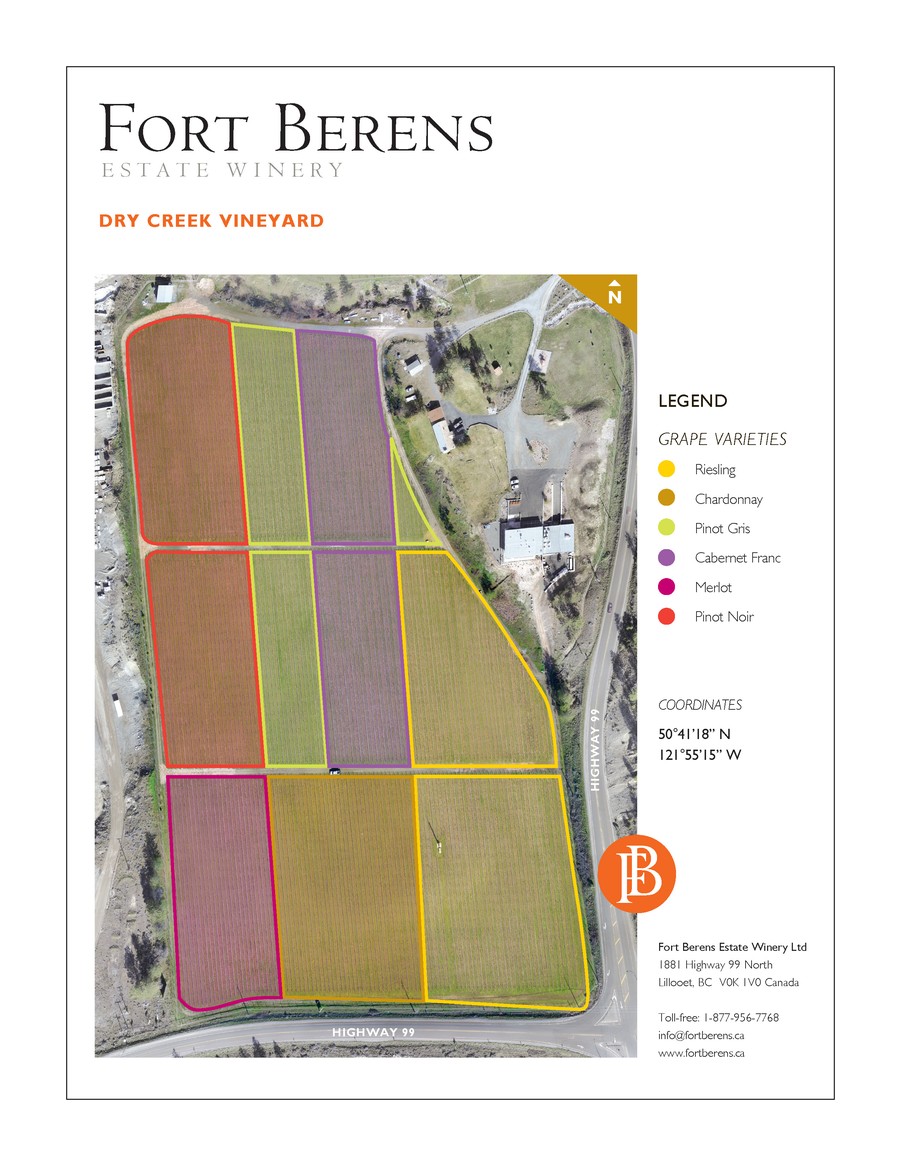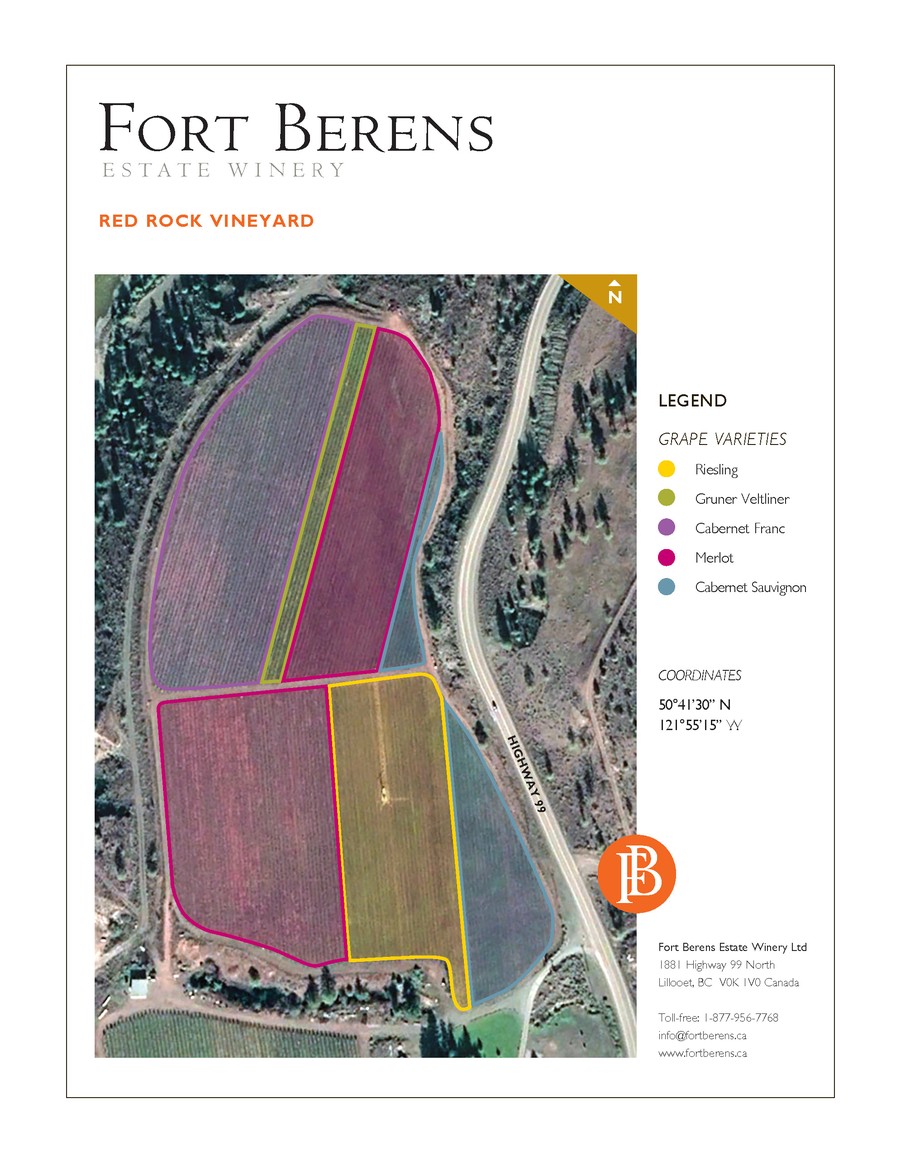 Our soils
Our soils are a result of deposits made during the last ice-age from about 100,000 years ago through about 10,000 years ago, at a time when glaciers dominated the valley. The Fraser River bench is a composite of gravely soil, loam, river rock and sand, with excellent drainage and rather poor organic material content - a great combination for vines, which like to work hard to produce excellent quality fruit.
Our vineyards are situated on benches that are unique in the area. These benches in Lillooet were formed during various times when the Fraser River was blocked towards the end of the ice age. In 1985, Ryder & Church wrote an extensive research paper about the creation of the benches.
The climate
The climate is very similar to the traditional grape growing regions in the Okanagan with long, hot, dry summers. Often, the Lillooet-Lytton area is the 'hot spot' in Canada. We differ in that our nights are cooler, making our average summer temperatures slightly lower than the Okanagan, but at the same time preserving the fresh crisp acidity in our wines that we like so well. Our location in Lillooet is positioned opposite the largest gap in the Coast Mountain range where Cayoosh Creek runs down to meet the Fraser River. This has the advantage of giving us additional sunlight hours and heat from mid-September through early November, when the sun sets in this valley. This gap extends our growing season in this important period for ripening our grapes
Our vineyard philosophy:
Quality - we consistently aim at growing the highest quality fruit possible on our land. Our growing practices are all aimed at that.
Staffing/Training - we strive to employ the local community and train them accordingly for each part of the grape growing and vineyard management practice they are involved in.
Sustainability - we work in the vineyard on a sustainable basis, using primarily natural products and practices to grow and support our grapes. We regularly test our vines and soils, aiming for an excellent balance in both.
Pioneering - we like to take what we've learned from others and try and apply and fit this knowledge to our own specific site. We also enjoy learning from season to season to see what practices work the best in our vineyard.
Growing the region - we encourage, support and give advice to other pioneers that are planting vineyards in this stunning and wonderful region. We are looking forward to the next wineries that will call this region their home.
Conservation - we aim to grow, along the boundaries of our vineyard and winery, a large variety of indigenous plants, to attract a large variety of native birds and insects to make the property fit well in its beautiful natural surroundings.