#LyttonStrong - SOLD OUT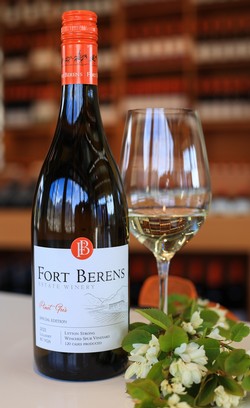 On June 30th, 2021, the beautiful Village of Lytton, BC was destroyed by a fire that swept through the town with such speed and fury, most residents didn't have time to grab much, if anything. Nearly the entire village was destroyed. Residents were forced to flee in separate directions and nearly one year later, many are still displaced around BC with little or nothing of their own.
Only a few things in Lytton were left unscathed, including Winch Spur Vineyard located on the traditional territory of the N laka'pamux People on the opposite side of the Fraser River. Owners Chuck and Nonie McCann farm this small vineyard planted in Pinot Gris. Fort Berens has purchased their grapes over the years and typically these grapes end up in a larger blend of Pinot Gris is wine under the Fort Berens label. Fort Berens again purchased the 2021 crop, however all of these grapes were made into a wine that has been bottled as a Special Edition wine to sell this spring as a means to raise money for the Lytton Rebuild Fund.
Fort Berens is donating 100% of the proceeds to the rebuilding efforts. With approximately 120 cases (1,440 bottles) available, we raised close to $50,000. This Special Edition wine is the keystone element of the #LyttonStrong fundraiser. The fundraiser was also supported through a silent auction and corporate sponsors. The overall campaign goal was to raise $125,000. At this point, just over $ 150,000 was raised.
These fund will go towards rebuilding the outdoor pool, a community gathering spot that was built 70 years ago, but serverly damaged during the fire last year. The funds will be used to rebuild the facilities, including changing rooms, showers and washrooms.
Thank you to everyone that purchased the #LyttongStrong Special Edition Pinot Gris made exclusively from grapes from Lytton. We also wish to thank the corporate sponsors, the businesses that donated to the silent auction and everyone that supported this fundraiser campaign.
The wine is sold out.