Vineyard Technician (apprentice)
Full time, year-round
Fort Berens is looking to expand our team with a high-potential candidate, who is willing to start a steep learning curve in all aspects of the vineyard and winery. You will receive training on-the-job by our vineyard manager (around 85% of the time) and winemaker (around 15%) and you will also be expected to follow external training programs. You will be fully trained to become a future vineyard manager.
Responsibilities:
Pruning, planting, thinning and harvest in the vineyard throughout the year;
Operation and maintenance of tractor and other vineyard equipment;
Assisting the vineyard manager in the development and implementation of the vineyard plan;
Record keeping on execution of the plans;
Trellis and irrigation system maintenance;
Assisting the winemaker in the cellar, processing fruit, pressing, filtering, bottling and cleaning;
The Vineyard Technician must be willing to work non-standard hours, including evenings and weekends, as needed.
Qualifications:
Physically fit and willing and able to work outdoors throughout the year in heath, cold, rain, etc;
Goal-driven and highly motivated, with initiative and the desire to increase knowledge and skills;
Interest in plants and nature are necessary. Vineyard experience and a passion for viticulture are a plus;
Willing and able to follow multiple relevant vineyard training programs, both on-the-job as well as external, e.g. the a 3-month full time course from Okanagan College in Pentincton (Jan. 2021);
A team player, able to work and interact with many different players;
Mechanically inclined;
Able to work with computer programs like Word, Excel, Powerpoint, etc.;
A BC driver's license is required. Other tickets like: Pesticide Applicator Certificate; First Aid Level 1 and Forklift certification, are a plus.
Offer:
This is a full time, year-round salary position. Starting salary and benefits according to experience.
How to apply / contact information:
Send your resume plus a motivational letter/email before January 31st to:
Heleen Pannekoek, owner. Email: heleen@fortberens.ca
Fort Berens Estate Winery
PO Box 758, Lillooet, BC V0K 1V0
cell: 778-209-7024

FOR IMMEDIATE RELEASE
March 29, 2018
LILLOOET, BC – The Kitchen at Fort Berens Estate Winery will reopen for the season on May 18th under new leadership of Executive Chef Jean-Sébastien (JS) Ouellette. Rolf de Bruin, co-founder and co-owner of Fort Berens explained, "JS was our Sous Chef for the last 2 years, and we are very pleased that he is taking over the leadership of our culinary team for this new season."
JS completed culinary school and worked at Michelin star restaurants in France and Italy. In France, surrounded by vineyards, he developed a love and appreciation for wine, and how wine and food together create the meal. JS worked in the Italian Dolomites in a tiny village called Plois d'Alpago, where he lived in the mountains and worked with produce from their 2-acre garden and meat from the neighbours. JS spent 5 years in Whistler, working in a series of positions at Nita Lake Lodge before making the move to Fort Berens.
"I fell in love with Lillooet. It is perfect for me. It's a perfect blend of my passions. Small town living, the mountains and vineyards, and working with locally-grown and produced ingredients," explained JS.
JS and the culinary team are passionate about featuring locally-sourced ingredients and working with local farmers to ensure that fresh, high quality local food is served. Guests experience the full farm-to-table experience at The Kitchen at Fort Berens with an ever-changing menu that reflects the availability of the freshest produce throughout the season.
The Kitchen at Fort Berens will be open for lunch daily throughout the season from May 18th through Thanksgiving. This year they will also be featuring a la carte dinner service on the weekends, special wine-paired dinners, tapas and music nights, bootcamps and more. Follow them on Facebook or check out their website to stay up-to-date on all of the upcoming events.

For further information, please contact:
Kim Lawton
DogLeg Marketing & Business Solutions
250.488.0878
klawton@DogLegMarketing.ca

FOR IMMEDIATE RELEASE
March 29, 2018
LILLOOET, BC – There is lots of activity happening over at Fort Berens Estate Winery these days.
Rolf de Bruin, co-founder and co-owner of Fort Berens explained, "After nine years of tending our first vineyard, experimenting and learning, we are now working on our second vineyard, which we currently refer to as our north field. We have plowed the field, and we have started planting our second vineyard, so things are getting very real and exciting."
The north field vineyard will represent a total of about 18 new acres to be planted in 2018 and 2019. In 2018, planting will include 4 acres of Merlot and 5 acres of Cabernet Franc. Planting will continue in 2019 with 3.5 acres of Riesling, 2 acres of Cabernet Sauvignon,1.5 acres of Gruner Veltliner, and 2 acres of Merlot.
Rolf continued, "This is exciting news for our emerging wine region. The expansion of the vineyard reflects our confidence in the Lillooet area growing region. It also shows our determination and commitment to produce wines from our estate and from grapes from other vineyards in the Lillooet region."
This vineyard expansion means that in the years ahead there will be more Lillooet grown grapes, and therefore more wine will be made here in Lillooet. This will be a welcomed response for wine lovers, as the demand continues to increase for wines from Fort Berens.
Currently, the team at Fort Berens is looking for a new name for the north field vineyard. If you have any suggestions, comment on their Facebook post or email them to info@fortberens.ca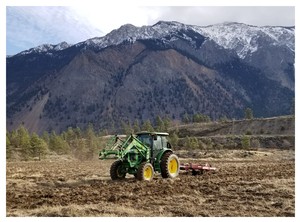 For further information, please contact:
Kim Lawton
DogLeg Marketing & Business Solutions
250.488.0878
klawton@DogLegMarketing.ca