Vineyard Technician (apprentice)
Full time, year-round
Fort Berens is looking to expand our team with a high-potential candidate, who is willing to start a steep learning curve in all aspects of the vineyard and winery. You will receive training on-the-job by our vineyard manager (around 85% of the time) and winemaker (around 15%) and you will also be expected to follow external training programs. You will be fully trained to become a future vineyard manager.
Responsibilities:
Pruning, planting, thinning and harvest in the vineyard throughout the year;
Operation and maintenance of tractor and other vineyard equipment;
Assisting the vineyard manager in the development and implementation of the vineyard plan;
Record keeping on execution of the plans;
Trellis and irrigation system maintenance;
Assisting the winemaker in the cellar, processing fruit, pressing, filtering, bottling and cleaning;
The Vineyard Technician must be willing to work non-standard hours, including evenings and weekends, as needed.
Qualifications:
Physically fit and willing and able to work outdoors throughout the year in heath, cold, rain, etc;
Goal-driven and highly motivated, with initiative and the desire to increase knowledge and skills;
Interest in plants and nature are necessary. Vineyard experience and a passion for viticulture are a plus;
Willing and able to follow multiple relevant vineyard training programs, both on-the-job as well as external, e.g. the a 3-month full time course from Okanagan College in Pentincton (Jan. 2021);
A team player, able to work and interact with many different players;
Mechanically inclined;
Able to work with computer programs like Word, Excel, Powerpoint, etc.;
A BC driver's license is required. Other tickets like: Pesticide Applicator Certificate; First Aid Level 1 and Forklift certification, are a plus.
Offer:
This is a full time, year-round salary position. Starting salary and benefits according to experience.
How to apply / contact information:
Send your resume plus a motivational letter/email before January 31st to:
Heleen Pannekoek, owner. Email: heleen@fortberens.ca
Fort Berens Estate Winery
PO Box 758, Lillooet, BC V0K 1V0
cell: 778-209-7024

Fort Berens Reserve Wine Pairings
At Fort Berens, we offer a wide range of wines each with a distinct style. Over the years, we have been able to cultivate and refine our approaches in the vineyard and cellar and have expanded our collection to include a full series of small lot, ultra premium reserve wines which express the unique terroir of our region. We have currated for you here a quick reference to some food pairing suggestions that we think would work wonderfully with these wines.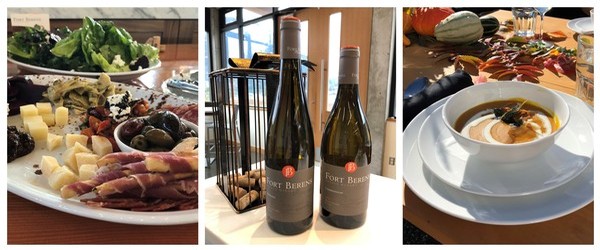 Chardonnay Reserve (White Gold)
Wine style: dry, crisp, with juicy acidity, fruit forward, medium body, oaked
Food pairings: Enjoy with a stuffed roast chicken, potatoes au gratin, or for the ultimate luxury, lobster.
Riesling Reserve
Wine style: off-dry, crisp, with higher acidity and minerality, fruit forward, concentrated, medium body
Food pairings: Enjoy the Riesling Reserve with spicy Pad Thai, cheese fondue, or a rich and creamy Alfredo sauce over linguine.
Red Gold
Wine style: rich, velvety, full bodied, long and intense finish, plush tannins
Food pairings: Red Gold is the perfect wine to pair with your finest cuts of beef or big game. Enjoy this bold wine with a well-marbeled porterhouse steak or hearty moose stew.
Pinot Noir Reserve
Wine style: concentrated, savoury earthy flavours, bright cherry fruit, elegant, long finish
Food pairings: While a fireplace is not required, it is certainly recommended while enjoying this wine paired with a fire-roasted tomato lentil stew, grilled salmon, or roasted duck.
Cabernet Franc Reserve
Wine style: opulent blueberry and blackberry aromas, purple floral perfume, medium body, ripe tannins, long finish
Food pairings: This wine pairs beautifully with lamb, duck, or tomato and basil pizza.
Meritage Reserve
Wine style: Earthy, intensly structured, powerful, high acidity and tannins, boldy flavourful
Food pairings: Enjoy this wine with roasted lamb, spaghetti bolognese, or lasagna.