The Kitchen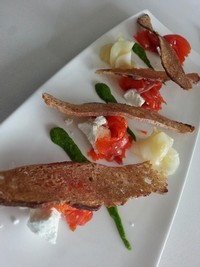 Farm to Table: Discover Lillooet's regional cuisine featuring fresh, local ingredients and classic, old-world techniques. Come experience our warm hospitality, award-winning wines and the finest bounty from Lillooet.
The Kitchen offers indoor and patio seating with stunning vistas of our vineyards, the Fraser Benchlands and the Coast Mountains. We invite you to come and savour our wine and food pairings.
Red Seal Certified, Executive Chef Dylan Foss leads the culinary team.
The Kitchen serves lunch starting at noon with the last sitting each day at 5:30pm. We will be open daily for the season until October 10th. Please call 250.256.7788 ext. 201 to reserve your table today.