News
Fort Berens Estate Winery Riesling Wins Best White Wine at Pacific Rim Wine Competition
Riesling 2018 GOLD – Best in Class & Best White Pacific Rim Wine Competition 2019 Riesling Reserve 2017 GOLD – National Wine Awards 2018 Riesling 2017 GOLD – British Columbia Lieutenant Governor's Wine Awards 2018 Riesling 2016 GOLD – Los Angeles International Wine Competition 2017 GOLD – Pacific Rim Wine Competition 2017 Dry Riesling 2016 GOLD – Los Angeles International Wine Competition 2017 GOLD – Pacific Rim Wine Competition 2017 Riesling 2015 Double Gold - San Francisco International Wine Competition 2016 Riesling 2013 GOLD – Pacific Rim Wine Competition 2014 Riesling 2012 LIEUTENANT GOVERNOR'S AWARD for Excellence in British Columbia Wines, 2014 GOLD & BEST IN CLASS (91 points) – Los Angeles International Wine & Spirits Competition 2013 Riesling 2011 GOLD and BEST IN CLASS – Pacific Rim Wine Competition 2012] LILLOOET, BC – The Riesling 2018 from Fort Berens Estate Winery in Lillooet has just received top honours. It was named Best White Wine at the 2019 Pacific Rim Wine Competition. After winning Best in Class for the Riesling category, it went on to be awarded the Best White Wine in the entire competition.
Rolf de Bruin, co-founder and co-owner of Fort Berens shared, "We are honoured and humbled to see our Riesling recognized with this outstanding award from such a prestigious international wine competition. We could not be more proud that this Lillooet Riesling was judged to be the top of its class in this international wine competition. In addition to the Best White Wine award for the Riesling 2018, we were also awarded a Double Gold for the 2018 Riesling Reserve at this competition."
Since 1985, the Pacific Rim Wine Competition has held a two-day, blind-tasting event with an esteemed panel of international judges representing all aspects of the wine industry. The judges evaluate the wines and award medals accordingly. This competition celebrates high-quality wines of all styles, from all regions of the world. The 2019 competition featured 1,000 wines from wineries around the world.
While there were many Canadian wineries that received a variety of medals in the competition, the Fort Berens Riesling 2018 was the only Canadian wine to be included in the list of the top 5 wines of the competition.
Rolf explained, "As the first winery in Lillooet, we see it as our duty to showcase the region and our unique terroir. From early days, we knew that the Riesling grape was able to express the Lillooet terroir. Our 2012 Riesling won the very prestigious 2014 Lieutenant Governor's Award for Excellence in British Columbia Wines. Since that time, our Rieslings have been awarded numerous prizes along the way. See the sidebar for a list of all Gold medals awarded to Fort Berens Riesling. These outstanding results reaffirm that Riesling is one of the signature grapes for our winery and the Lillooet region. The region experiences huge diurnal variations during late summer and early fall. These swings from high daytime temperatures to cool nights preserve the fresh fruit qualities of our grapes. The retained acidity allows for superb balancing of residual sugar at a number of different points, whether the wine is dry, off-dry or medium sweet. The versatility of the Riesling grape combined with the excellent growing conditions in Lillooet, create an award-winning combination."
Fort Berens was awarded a number of medals at the 2019 Pacific Rim Wine Competition, including:
Riesling 2018 – Gold, Best in Class, Best White Wine
Riesling Reserve 2018 – Double Gold
Rosé 2018 – Double Gold
Cabernet Franc Reserve 2016 – Gold
Chardonnay 2017 – Silver
Pinot Gris 2018 – Bronze
Pinot Noir 2016 – Bronze
Fort Berens wines are available for sale at the winery, online, and at fine liquor stores and restaurants around BC.
For the full list of winners visit: http://pacificrimwinecomp.com/pacific-rim-wine-competition-results/
Fort Berens Estate Winery is a culmination of the dreams, vision and pioneering spirit of several entrepreneurs – Heleen Pannekoek, Rolf de Bruin, Hugh Agro, Sean Harvey, Jason Neal, John McConnell, Tara Christie, Raymond Rae, Joseph Neal, Dan Barnholden and Patrick & Caroline Downey. The owners of Fort Berens share a common belief in the incredible winemaking potential of the area and a shared vision to make Fort Berens into one of Canada's leading producers of fine wine. With its vineyards on sagebrush covered benchland along the Fraser River at the base of towering mountains, Fort Berens embraces the spirit of Lillooet. Discover Fort Berens Estate Winery, Lillooet's first winery, in BC's newest wine region and explore 150 years of pioneering spirit. For more information, call 1.877.956.7768, visit www.FortBerens.ca, or follow them on Facebook, Twitter and Instagram.

Fort Berens Reserve Wine Pairings
At Fort Berens, we offer a wide range of wines each with a distinct style. Over the years, we have been able to cultivate and refine our approaches in the vineyard and cellar and have expanded our collection to include a full series of small lot, ultra premium reserve wines which express the unique terroir of our region. We have currated for you here a quick reference to some food pairing suggestions that we think would work wonderfully with these wines.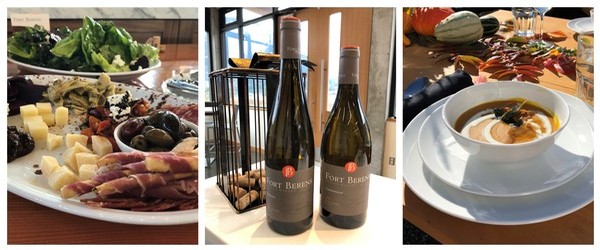 Chardonnay Reserve (White Gold)
Wine style: dry, crisp, with juicy acidity, fruit forward, medium body, oaked
Food pairings: Enjoy with a stuffed roast chicken, potatoes au gratin, or for the ultimate luxury, lobster.
Riesling Reserve
Wine style: off-dry, crisp, with higher acidity and minerality, fruit forward, concentrated, medium body
Food pairings: Enjoy the Riesling Reserve with spicy Pad Thai, cheese fondue, or a rich and creamy Alfredo sauce over linguine.
Red Gold
Wine style: rich, velvety, full bodied, long and intense finish, plush tannins
Food pairings: Red Gold is the perfect wine to pair with your finest cuts of beef or big game. Enjoy this bold wine with a well-marbeled porterhouse steak or hearty moose stew.
Pinot Noir Reserve
Wine style: concentrated, savoury earthy flavours, bright cherry fruit, elegant, long finish
Food pairings: While a fireplace is not required, it is certainly recommended while enjoying this wine paired with a fire-roasted tomato lentil stew, grilled salmon, or roasted duck.
Cabernet Franc Reserve
Wine style: opulent blueberry and blackberry aromas, purple floral perfume, medium body, ripe tannins, long finish
Food pairings: This wine pairs beautifully with lamb, duck, or tomato and basil pizza.
Meritage Reserve
Wine style: Earthy, intensly structured, powerful, high acidity and tannins, boldy flavourful
Food pairings: Enjoy this wine with roasted lamb, spaghetti bolognese, or lasagna.

Principles of Wine Pairing
The holiday season is a fun and joyous time of year. It marks a time of celebration including get-togethers with family and friends, holiday parties and many festive dinners. With more wine-drinking opportunities, we get lots of questions about which wines are best to serve for different occasions or what new wine to try for a specific festive celebration.
Many food and wine pairing recommendations are classic and straightforward based on the meat. These pairing charts say, for example, to pair chicken with Chardonnay, turkey with Pinot Noir, and cheese with Merlot. In reality, these simple suggestions ignore that there are as many different ways to prepare chicken, as there are ways to produce a Chardonnay.
For example, chicken with lemon, chicken tikka masala, fried chicken or spicy Thai chicken are all chicken-based dishes, but each one tastes very different and each will pair better with different wines. When considering the food portion of the pairing, instead of looking at the main ingredient (i.e. chicken), we suggest focusing on the most prominent textures and dominant flavours in the dish.
Now, when thinking about the wine portion of the pairing, we suggest focusing on the style of wine rather than the grape varietal. A Riesling can be dry, off-dry, semi-sweet, sparkling, ice wine, late harvest or many other styles. Therefore, we should focus on the style of wine. The style can be described in terms of acidity levels, sweetness, texture and weight.
In this article, we will try to explain how to pair your wine so that you can make a great choice for yourself in any situation.

Here are a few general rules for pairing wines:
Wine and food can complement each other, where the combination makes both the wine and the food taste better. It is also possible that the specific combination of wine and food have a negative impact on each other. It can be magical when the food and wine pairing enhances the flavours of both. However, in most cases, we should be happy with a combination that is appropriate. Pairings are rarely perfect, although some are certainly much better than others.
A poor or flawed wine is not going to taste any better with a well-paired dish. Conversely, an unpleasant dish will not be any more appealing with a nice wine. So, both the cook and the winemaker have a job to do.
Choose a wine that you like. If you don't like a certain type of wine, you won't like it any better just because it's paired appropriately. If you cringe at the aroma of an older Riesling because it reminds you of your neighbour's stinky garage when you were growing up, you won't like it any better at Christmas, even when it is nicely paired with a wonderful dish.
Be open-minded. We all have our favourite wines and we all have wines that we avoid, particularly when we drink the wine by itself. When pairing wine with food, be open for new discoveries. Allow yourself to be surprised by new varietals. Or say yes to a varietal you don't normally drink. You may very well learn to like a specific style of wine, especially if it's paired with the right food. So be open.
Now that we have the general rules laid out, let's look at the basic principles of good food and wine pairings.
Rule One: Match the acidity level in the wine and food
Both food and wine can range from acidic or tart to rich. Generally, more acidic food pairs well with more acidic wine and richer food pairs well with richer wines. Foods and beverages that are tart can cleanse your mouth, creating a refreshing sensation. On the other hand, some food and wine can be very rich and buttery, which coats the inside of your mouth.
Keep in mind that at the extremes of the acidic to rich range, pairings are more difficult. A salad with a very tart vinaigrette is very hard to pair with any wine, no matter how tart. With dishes that are super-rich, sometimes contrasting the richness with a more acidic wine, creates a more interesting pairing. For example, cheese fondue is super rich, but often does better with a more acidic white wine. Be careful though when pairing cream based sauces with tart white wines, because although it may cut through some of the fat, the combination is prone to curdle.
Rule Two: Match the weight in the wine and food
Pair a lighter dish with a lighter wine and a rich dish bursting with flavour with a rich heavy wine. The weight of a wine is influenced by alcohol, tannins, and flavour intensity. An unoaked Chardonnay will be lighter than a Chardonnay aged in French Oak barrels. The weight from food comes from fat, flavours and to some extent sweetness. The wine and the dish should be equal partners, with neither overwhelming the other.
Rule Three: Tannins need fat
Tannins in a wine can make the palate feel dry. Fat from meat, fish, or even cheese can soften the drying sensation from the tannins making the wine smoother. So younger wines with more astringent tannins do better with fatter cuts like Prime Rib. Wines with softer tannins, through aging, pair better with leaner cuts of beef.
Rule Four: Heat needs sugar
Many cultures that serve spicy dishes have side dishes to cool things down. Many people think that wine will cool a spicy dish down, but alcohol can actually intensify the heat. Because heat needs sugar to cool things down, when thinking about a wine pairing for spicy food, it is best to pair spicy food with a slightly sweet lower alcohol wine. This is why a slightly off-dry Riesling pairs so beautifully with lightly spicy food, while a sweeter Late Harvest Riesling can balance even more heat.
Rule Five: Avoid mixing tannins and salt
Salt intensifies the impressions of tannins and alcohol. It also can reduce the expression of fruit characteristics. Too much salt on a steak or in an aged cheese, can make a subtle Cabernet Franc turn into a hard, tannic wine that lacks fruit.
Rule Six: Match the sweetness level in wine and food
With dessert, you want the wine to be sweeter than the food. Luckily there is a wide array of possible wines to pair with almost any dessert. There are appropriate dessert-pairing wines ranging from lighter sweet wines to ice wines to rich heavy ports.
Often, we take special care with food and wine pairings for our special dinners with friends and loved ones. If you find that one of the pairings is not working out the way you had envisioned, consider replacing it with an alternative. There is no sense in drinking the whole bottle if the pairing isn't working. Save the bottle for after dinner or enjoy it the next day with another meal.
Wine and Cheese
Because wine and cheese parties are so common during the holidays, we wanted to specifically address this pairing. Wine and cheese are a combination that are often served because the pairing can be quite stunning, enhancing both the wine and the cheese. However, there are literally hundreds of wine options and hundreds of cheese options, therefore making the pairings here very important.
When thinking about wine and cheese, all the principles from above apply without reservation. For example, soft, fresh and young (cow or goat) cheeses tend to be more tart with higher acidity. Therefore, try a crisp, fresh dry white wine, like Sauvignon Blanc or Pinot Gris with these. Soft cheeses with a bit more age, like Brie and Camembert do well with a bit richer wine like Chardonnay or Gewürztraminer. Semi-aged cheese that is bit firmer (and a bit saltier) can work well with red wines like young, fruity Pinot Noir or even Cabernet/Merlot blends that are soft and smooth. Hard aged cheeses, which tend to be salty, work well with Vintage Port, which is low in tannins and semi-sweet. And if you like blue cheese? Blue cheese, which tends to be very salty, pairs nicely with sweeter white wines, like a Late Harvest Botrytis affected Riesling.
So, whatever is on your menu this holiday season, keep these guidelines and principles in mind as you think about your pairings. Maybe you'll even discover a new favourite! Whatever wine and food pairings you choose in the days ahead, have fun and savour the joys of this most wonderful time of year.
Fort Berens Wine Pairings
At Fort Berens, we offer a wide range of wines each with a distinct style. While the vintage may taste different from year to year, we try to keep the style consistent.
Camels White
Wine Style: dry, crisp, with higher acidity, fruit forward, light-medium body, low tannins (unoaked)
Pairings:
White fish, pan-seared with lemon, parsley and rice
Rocket salad, pine nuts, parmesan, olive oil and lemon juice
Fresh soft cheeses
Pinot Gris
Wine Style: dry, crisp, with moderate acidity, fruit forward, medium body (from lees contact), low tannins (unoaked)
Pairings:
Sautéed or grilled shrimp
Grilled summer vegetables
Shrimp and avocado sushi
Grilled chicken with Herbs de Provence off the BBQ
Goat cheese brie
Riesling
Wine Style: almost dry, crisp, with higher acidity, fruit forward, medium body (from a touch of sweetness), low tannins (unoaked)
Pairings:
Mild chicken curry (based on Thai or Indian recipe)
Munster cheese or other red rind cheeses
Chardonnay
Wine Style: dry, crisp, with higher acidity, fruit forward, medium body, medium tannins (lightly oaked)
Pairings:
Eggs Benedict - West Coast Style with smoked salmon
Sautéed scallops
Rosé
Wine Style: dry, crisp, with higher acidity, fruit forward, medium body, low tannins (unoaked)
Pairings:
Mushroom ravioli with parsley
Summer salad with grilled tuna
Bruschetta with tomatoes and shrimp
Camels Red
Wine Style: dry, round, with moderate acidity, fruit forward, medium body, soft tannins (oaked)
Pairings:
Spaghetti Bolognese with basil
Pizza with finocchiona salami, black olives, mozzarella di bufala and arugula
Pinot Noir
Wine Style: dry, round, with moderate acidity, fruit forward, medium body, soft tannins (oaked)
Pairings:
Grilled filet of salmon smoked on a cedar plank
Grilled quail with tomato and corn salsa
Pulled pork sandwich (not too spicy)
Merlot
Wine Style: dry, round, smooth, with low acidity, fruit forward, full body, soft tannins (oaked)
Pairings:
A "real" hamburger made from ground sirloin on a home-made sesame toasted bun
Leaner steaks from the BBQ, like striploin smothered in The Kitchen at Fort Berens' BBQ sauce
Boneless saddle steak of venison on the BBQ
Cabernet Franc
Wine Style: dry, round, smooth, with low acidity, full body, medium tannins (oaked)
Pairings:
Juniper braised short ribs
Roast leg of lamb with garlic and rosemary
Shredded slow roasted duck with balsamic glazing
Meritage
Wine Style: dry, round, smooth, with low acidity, full body, medium tannins (oaked)
Pairings:
Best cuts from the beef: tenderloin, prime rib or rib-Eye with potato wedges
Lean cut of venison on the BBQ with polenta
Late Harvest Riesling
Wine Style: off-dry to semi-sweet, with higher acidity, rich fruit, medium body (from the sweetness), low tannins (unoaked), low alcohol
Pairings:
Cheesecake
Sautéed vanilla pears with Zabaglione
Wild raspberry crème caramel
Grandmother's apple pie with vanilla ice cream