News
Fort Berens Estate Winery Riesling Wins Best White Wine at Pacific Rim Wine Competition
Riesling 2018 GOLD – Best in Class & Best White Pacific Rim Wine Competition 2019 Riesling Reserve 2017 GOLD – National Wine Awards 2018 Riesling 2017 GOLD – British Columbia Lieutenant Governor's Wine Awards 2018 Riesling 2016 GOLD – Los Angeles International Wine Competition 2017 GOLD – Pacific Rim Wine Competition 2017 Dry Riesling 2016 GOLD – Los Angeles International Wine Competition 2017 GOLD – Pacific Rim Wine Competition 2017 Riesling 2015 Double Gold - San Francisco International Wine Competition 2016 Riesling 2013 GOLD – Pacific Rim Wine Competition 2014 Riesling 2012 LIEUTENANT GOVERNOR'S AWARD for Excellence in British Columbia Wines, 2014 GOLD & BEST IN CLASS (91 points) – Los Angeles International Wine & Spirits Competition 2013 Riesling 2011 GOLD and BEST IN CLASS – Pacific Rim Wine Competition 2012] LILLOOET, BC – The Riesling 2018 from Fort Berens Estate Winery in Lillooet has just received top honours. It was named Best White Wine at the 2019 Pacific Rim Wine Competition. After winning Best in Class for the Riesling category, it went on to be awarded the Best White Wine in the entire competition.
Rolf de Bruin, co-founder and co-owner of Fort Berens shared, "We are honoured and humbled to see our Riesling recognized with this outstanding award from such a prestigious international wine competition. We could not be more proud that this Lillooet Riesling was judged to be the top of its class in this international wine competition. In addition to the Best White Wine award for the Riesling 2018, we were also awarded a Double Gold for the 2018 Riesling Reserve at this competition."
Since 1985, the Pacific Rim Wine Competition has held a two-day, blind-tasting event with an esteemed panel of international judges representing all aspects of the wine industry. The judges evaluate the wines and award medals accordingly. This competition celebrates high-quality wines of all styles, from all regions of the world. The 2019 competition featured 1,000 wines from wineries around the world.
While there were many Canadian wineries that received a variety of medals in the competition, the Fort Berens Riesling 2018 was the only Canadian wine to be included in the list of the top 5 wines of the competition.
Rolf explained, "As the first winery in Lillooet, we see it as our duty to showcase the region and our unique terroir. From early days, we knew that the Riesling grape was able to express the Lillooet terroir. Our 2012 Riesling won the very prestigious 2014 Lieutenant Governor's Award for Excellence in British Columbia Wines. Since that time, our Rieslings have been awarded numerous prizes along the way. See the sidebar for a list of all Gold medals awarded to Fort Berens Riesling. These outstanding results reaffirm that Riesling is one of the signature grapes for our winery and the Lillooet region. The region experiences huge diurnal variations during late summer and early fall. These swings from high daytime temperatures to cool nights preserve the fresh fruit qualities of our grapes. The retained acidity allows for superb balancing of residual sugar at a number of different points, whether the wine is dry, off-dry or medium sweet. The versatility of the Riesling grape combined with the excellent growing conditions in Lillooet, create an award-winning combination."
Fort Berens was awarded a number of medals at the 2019 Pacific Rim Wine Competition, including:
Riesling 2018 – Gold, Best in Class, Best White Wine
Riesling Reserve 2018 – Double Gold
Rosé 2018 – Double Gold
Cabernet Franc Reserve 2016 – Gold
Chardonnay 2017 – Silver
Pinot Gris 2018 – Bronze
Pinot Noir 2016 – Bronze
Fort Berens wines are available for sale at the winery, online, and at fine liquor stores and restaurants around BC.
For the full list of winners visit: http://pacificrimwinecomp.com/pacific-rim-wine-competition-results/
Fort Berens Estate Winery is a culmination of the dreams, vision and pioneering spirit of several entrepreneurs – Heleen Pannekoek, Rolf de Bruin, Hugh Agro, Sean Harvey, Jason Neal, John McConnell, Tara Christie, Raymond Rae, Joseph Neal, Dan Barnholden and Patrick & Caroline Downey. The owners of Fort Berens share a common belief in the incredible winemaking potential of the area and a shared vision to make Fort Berens into one of Canada's leading producers of fine wine. With its vineyards on sagebrush covered benchland along the Fraser River at the base of towering mountains, Fort Berens embraces the spirit of Lillooet. Discover Fort Berens Estate Winery, Lillooet's first winery, in BC's newest wine region and explore 150 years of pioneering spirit. For more information, call 1.877.956.7768, visit www.FortBerens.ca, or follow them on Facebook, Twitter and Instagram.

To serve you better:
We are launching a new website
We are building a new winery
We are .... growing (up)
As a young business there seems an endless stream of projects all aimed at serving you better. Working under tight financial constraints, most projects should have started many months ago, perhaps even years. However, we choose to postpone until we were sure that these assets would be used to its full extent.
Our website was initially, just a bill board with some information about our business. Moving to our new website on the Vin65 platform will allow visitors to the website to purchase wine online and complete the entire transaction online. It provides a safe and secure environment to purchase wine and sign up for our wine club. Particularly, the capability to manage our wine club was the real reason to implement this new website. Hopefully, it will allow us to more consistently and accurately follow up on the numerous special requests we receive with every shipment we do. As a small winery, we would like to accommodate the special wishes from our club members. This site will also allow us to better integrate posts on Facebook, twitter, this blog and other media without the need to repeat ourselves too many times. Hopefully, you will enjoy the improved shopping (and browsing) experience.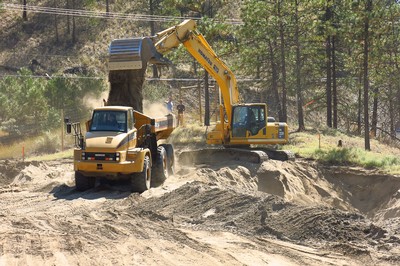 The new winery is a huge project that we have worked on for many years. We have postponed the start of the construction a number of times. Recognizing that starting a vineyard in Lillooet is risky business, we wanted to wait to see how the vineyard matured and how our wines from Lillooet were received. Fortunately, we are overwhelmed on both accounts. We are very grateful for how well the wine has been received. Consumers in Whistler, Kamloops, Vancouver and many other places in British Columbia have sought out and embraced our wines. Buying wine from a new region is perhaps as risky as starting a vineyard in a new region, as does not have to be successful. We therefore are very grateful to those that took that risk, purchased our wines and found that the wines are well above expectations for such a new region and subsequently shared our wine with friends and family. Thank you.
The new winery will allow us to make all our wine on site. The design team led by David Agro, included wine makers, owners, marketers, sales staff and many other people that provided great insights to what we wanted to be able to do in the building. In addition to functionality, we wanted to allow guests to experience what it takes to make wine. In our old winery, visitors see tanks, barrels and equipment while tasting. They can smell, hear and almost feel every step in making wine. It does pose some operational challenges as you can imagine: cleaning tanks with our hot water pressure water is a noisy and steamy process that does interfere with a casual and relaxed wine tasting. In the new design, we decided that we would replicate the Big Brother principle, where the winemaker would be working in a transparent space. As you approach the winery, you can walk across the crush pad and look through the glass doors in to the fermentation hall. While visiting the tasting room, windows down into the fermentation room allows guests to peel into our production space and see the winemaker at work.
The building should be completed in the summer of 2014, just in time for bringing in the harvest from our vineyard in Lillooet. We hope you will stop by some time, either to visit our rustic old winery this year or our new facility next year.