Christopher (Chris) Marquardt
Viticulturist
Dedicated. Detail oriented. Sustainable.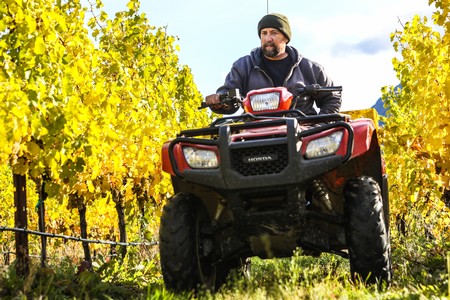 Christopher (Chris) Marquardt joined Fort Berens in 2020 as vineyard foreman after more than a decade of farming experience across Canada. A viticultural program from Washington State University as well a mentoring program from a recognized viticulturist from the Okanagan laid the foundation for his expertise in the vineyard. He forged his own path forward based on sustainable farming practices, before starting Fort Berens' formal Sustainable Winegrowing Certification in 2023.
"Our goal is to create handcrafted award-winning wines that reflect our unique Lillooet terroir. We like to have our wines tell the story of our terroir with limited intervention and manipulation. As a result, we have started to work as a sustainable farm. We use many organic practices and we are continually trying to improve and expand these every year. As an example, after abandoning herbicide sprays in our vineyard, and moving to finger weeding, we're currently working on introducing cover crops to minimize tilling and working the soils, while reducing compaction and improving the organic matter in our soils in a natural way. We mow alternate rows, not the entire vineyard at once, to make sure that beneficial insects can find a place to go, and by doing so, keeping pests out of the vines as much as possible.
We have created and improved natural landscaping elements around the vineyards and winery to reduce the need for irrigation in our landscaping, to show to our visitors the beauty of the locally grown plants, to encourage local wildlife (birds of prey, insects etc.), and to educate tourists about the ecology of our desert-like area.
The important thing is that we keep improving, working with the local invasive species, naturalist societies and beekeepers to improve our practices while maintaining a healthy crop. In addition, once we move into the winemaking process, we often ferment with indigenous yeasts."
- Chris Marquardt - Viticulturist