2022 Vintage Report
Mother Nature continued to challenge our vineyard and winemaking team in 2022. Despite the challenges, it ended up being another remarkable growing season.

2022 Harvest Highlights
The winter of 2021-22 was cold and harsh with a record low temperature of -25.7 degrees on December 27th. Despite our expectations, the vines ended up showing minimal winter damage, which may have been a combined result of the slow drop in temperatures during December, combined with an atypical (for Lillooet) snow cover. The slow drop in temperature meant that the plants were able to optimally acclimatize to the drop in temperatures and the vines went into deep dormancy, while the snow cover kept the soil temperatures relatively high.
The cold winter was followed by a late and cool spring, and bud break was 2 weeks later than normal. A cloudy and rainy June delayed ripening even further.

Summer was fairly typical for Lillooet. It was hot and dry, although there were only 3 days just above 40 degrees. The temperature was in the mid-to-high 30-degree range for most of the summer. We had little disease pressure and no smoke or fire challenges near the winery. We performed early leaf removal on the east side of the vine rows to get maximal sunlight onto the grape clusters for better ripening.

The weather cooled down only a little in September, with temperatures remaining in the high twenties into October. October was unseasonably warm, giving the grapes an extra 2 weeks of ripening time, which was just what was needed. We got everything optimally ripe including the late ripening varietals. Harvest started on September 12th and wrapped up on November 2nd, a full 14 days later than in 2021.
With our Red Rock Vineyard coming into production, we were able to harvest the highest crop ever from our estate vineyards, and the 2022 vintage also reflects one of the highest percentages of estate grown grapes.
We put a lot of focus on the soil and irrigation in our new Red Rock Vineyard in 2022, and we are really happy with the beautifully balanced grapes from this vineyard. Looking ahead, we expect to increase the amount of estate grown grapes because our Red Rock Vineyard will be at 100% production.

In summary, our 2022 vintage ended up being above our expectations, which was fairly unexpected, given the way the season started. While the season started out late, it also ended later which allowed for everything to ripen optimally.
We would also like to take a moment to celebrate and thank our entire hardworking vineyard and winemaking team lead by our Winemaker Alessandro (Alex) Nel and our Vineyard Manager, Christopher Marquardt for managing through all of the challenges this past year.
What to Expect from our 2022 Vintage
In 2022, Alex continued to make several changes to our winemaking protocols to further raise the quality of the wines. We purchased more seasoned wine barrels this past year, so our barrel program is now where we want it. This will allow for more malolactic fermentation in barrels.
Our 2022 vintage whites, which we will be releasing in the weeks ahead, are elegant with beautiful, fresh acidity, and lovely aromatics. Portions of our Small Lot Dry Riesling and Small Lot Grüner Veltliner went through natural fermentation in neutral barrels, which added richness and fullness to the mouthfeel. Our 100% estate grown Rosé is juicy and luscious, perfect to enjoy this summer. Watch for stylish new bottles for our 2022 Riesling and Rosé. While still very early, the 2022 red wines are soft, rich, and elegant with brilliant colour.
We can't wait to share our new 2022 vintage wines with you. Stay tuned for more on the release of our 2022 vintage white and Rosé wines in the near future.

Cheers!
The Fort Berens Team

As we do annually at this time of year, we want to pause and reflect on our most recent growing year and give you an idea of what you can look forward to with our 2021 vintage.
2021 Vintage Report
​2021 was a challenging year globally, across Canada, within BC, and here in Lillooet. Locally, we had many challenges to deal with, from COVID-19, the heat dome, wildfires, mudslides, floods, and road closures throughout the province. In addition, there were supply chain issues and labour shortages. These challenging times continued to push us to pivot and innovate in all areas of our winery and vineyard.
Introducing Our New Winemaker
Our hardworking vineyard and winemaking team also had to contend with the impact of many of these challenges. We are very grateful that we had strong leadership to manage through these challenges. Alessandro (Alex) Nel joined the Fort Berens team as Winemaker & Viticulturist in January 2021 to lead our vineyard and winemaking team. He worked on our 2021 vintage from the start of pruning to the last press load of grapes on November 10th.
An accomplished and award-winning winemaker, Alex completed his degree in Viticulture and Oenology at Elsenburg University. He spent 10 years as winemaker at Cederberg Winery in the Western Cape of South Africa. While at Cederberg Winery, Alex produced one of the Top 50 wines in the Decanter World Wine Awards 2021.
Alex also worked at wineries in California, France, and New Zealand, giving him a depth of experience working in a range of vineyards and wineries in different regions and preparing him for his time at Fort Berens and our new wine region in Lillooet.

2021 Harvest Highlights
In the vineyard, Mother Nature presented us with many challenges in 2021. The year started out well. We had a good winter without a lot of heavy frost, so we were fortunate to start the season with healthy vines. We had some mild frost in the spring, but thankfully it didn't damage the buds. We had a fairly dry spring, and everything went smoothly during bud break and flowering.
In June, the heat wave hit. We had the highest temperatures ever recorded in June, followed by wildfires in the area. The heat dome caused some sun damage on our young vines in our newer Red Rock Vineyard. Some of the grapes were burned by the sun. The vines partially shut down during the heat wave to protect themselves, however when the heat wave ended, they came back, and new growth and green shoots pushed out. We did have a lower yield than we were hoping for from this vineyard because of the sun damage, but thankfully the majority of the grapes and the vines bounced back, and we don't anticipate long term damage from the heat wave.
Our Dry Creek Vineyard fared well during the heat wave, in part because the vines are more established with a fuller canopy and root system that protected the grapes from the intense heat and sun.

We were fortunate that despite the McKay Creek and Lytton fires in the area, we had no smoke around the vineyards and no smoke taint in our wines. Thankfully during this time, it was also quite windy which helped blow the smoke away from the vineyard.
We were concerned about the wildfires hitting the vineyards of our grape growers in the Lytton area. Fortunately, and incredibly, the vineyard from one of our growers in Lytton, Winches Spur Vineyard, was spared from the fires. We made a small lot Pinot Gris exclusively from grapes from this vineyard which will be released this spring. We are pleased to announce that full proceeds from this wine will be used to help with the Lytton recovery and rebuilding efforts.
After the heat wave and the fires, the weather cooled down nicely. We had a lot of rain throughout the growing season with significant rainfall almost every week throughout harvest. After veraison, we had warm days and cooler nights for the last five weeks before harvest. This led to beautiful natural acidity and aromatics in the whites. We were able to have nice long hanging time on the reds, which also helped produce rich and bold reds.
Harvest began on August 30th as we started picking Chardonnay for a new Blanc de Blanc Sparkling wine. This new wine will be partially barrel fermented, and it will age for 36 months in bottle, so you will have to wait some time to enjoy this new sparkling wine.

Our Vineyard Manager, Christopher Marquardt, did an incredible job managing our vineyard team through harvest, despite a number of obstacles. The rain during harvest proved challenging at times requiring adjustments to the picking schedule. In addition, with the large yield of grapes and labour shortage, we had to seek help from Okanagan-based pickers to complete harvest. Harvest ended with Cabernet Franc on October 23rd.
We had an above average harvest in our existing vineyard with higher yields, compared with last year. With our young Red Rock Vineyard coming into production, 2021 represented the biggest harvest ever from our estate despite losing some of the young grapes to sun damage. The heat damage in our young vines caused smaller berries which led to more concentrated wines made from these grapes.
It has long been our goal to have more estate and Lillooet VQA fruit and to really showcase our Lillooet terroir in our wines. The 2021 vintage will move us closer to this goal, as we ended up with 2.8 tonnes of beautiful Cabernet Sauvignon from Red Rock Vineyard in addition to good third and fourth leaf crops of other grapes in this young vineyard. This is the first year that we have ever had estate grown Cabernet Sauvignon, and Alex says that these are among the top tanks in the winery at the moment.

What to Expect from our 2021 Vintage
In 2021, Alex made several changes to our winemaking protocols to further raise the quality of the wines. Our white wines are made extremely reductive, combined with aromatic yeasts and cold fermentations to produce fresh, lively white wines with great ageing potential. This is the case for our Chardonnay, Rieslings, Pinot Gris, and Grüner Veltliner, which will be released in 2022.
For our classic 2021 vintage whites, grapes were crushed and destemmed into tank. After six hours of skin contact, they went to press where we separated the free run juice from the press fractions. Alex and our winemaking team engaged light pressing up to 8 PSI and then settled at cold temperature.
Our reserve 2021 vintage whites were barrel fermented and underwent natural fermentation. This is the first time the Riesling Reserve has been barrel fermented at Fort Berens, so we are excited for this release in 2023.
In terms of our red wines, under direction from Alex, our picking team was quite selective with the picking of the grapes in the vineyard. Rather than picking all the grapes from a block on one day, our team picked the grapes within each block as they were ready. After picking, the red wine grapes underwent a one-night cold soak, and then started the fermentation process. We used a combination of punchdowns and pump overs every 4 hours. The wines were tasted every day to decide when to press. After ferment, some of the reds were left up to 20 days on the skins. This extended maceration period post fermentation produced more intense colours, and extracted fine tannins to provide structure. Because we didn't press hard, the wines are more juicy and fruit-driven.

We also enhanced our barrel ageing program. In 2021, we purchased about 60 additional barrels to help expand our barrel ageing program. All our reds, both classic and reserve, will now age for a minimum of 15 months in barrel going forward, and all will go through malolactic fermentation in barrels. In addition, we are moving away from American oak and moving to all French oak. Alex selected barrels from very specific coopers to give us the results we want. Going forward, anticipate red wines that are more integrated with the oak for a softer, richer more integrated wine. You will have the opportunity to taste these red wines upon release in fall 2023.
We are very optimistic for the future, as Alex further raises the bar on our winemaking. We are thrilled with the development of the wines from our 2021 vintage, and we can't wait to share them with you.

2020 represented a key milestone for us, as it marked the completion of our 10th harvest here at Fort Berens. For a winery in an emerging wine region, this is an important milestone and one worth pausing to celebrate. We are eternally grateful for the support from Lillooet, our customers, liquor stores and restaurants, and the entire BC wine, tourism, and hospitality industry. We would not be here today without all of your unwavering support.
When we first planted our vineyard, many wondered if we could grow grapes here in Lillooet. Not only did we demonstrate that we could grow grapes here, but we have shown that we can grow grapes that produce highly regarded, award-winning wines that reflect our unique terroir.
As a result of increased demand and our desire to further showcase the Lillooet VQA, we planted our 18-acre Red Rock Vineyard in 2018 and 2019 and it now has 6 acres of Merlot, 5 acres of Cabernet Franc, 3.5 acres of Riesling, 2 acres of Cabernet Sauvignon, and 1 acre of Grüner Veltliner. This brings our estate vineyard to 38 planted acres.
We were very pleased to have the first crop from our Red Rock Vineyard in 2020. This year we harvested Merlot and Cabernet Franc from the vines we planted in 2018. With our estate vineyard expansion now complete and starting to produce fruit, this means that in the years ahead, we will have more Lillooet-grown grapes, and we are excited to introduce two new varietals in our vineyard.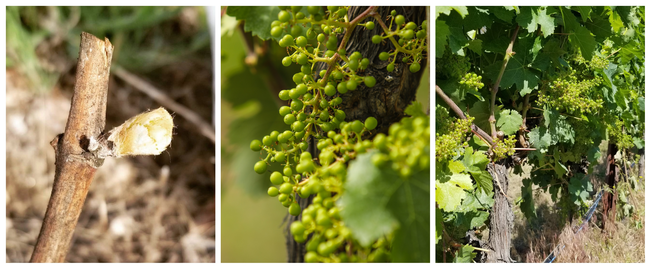 The 2020 crop came in substantially lower than average. This was mostly due to smaller berry size and didn't become apparent until later in the growing season. Smaller berries are great for colour and flavour, but typically, we see smaller bunch size (fewer berries per cluster) and fewer bunches per vine as leading causes for lower crop yields. This year, most indicators were normal, but in the end, the berries didn't swell like they usually do. Some varietals ended up coming in with yields 20-40% lower than normal. Lower cropping levels meant we had less fruit to work with, and ultimately 2020 will be one of our smallest crops from our Dry Creek Vineyard since it came into full production. Having a small 2020 vintage means we are likely going to sell out of our wines more quickly than normal.
The 2020 season saw bud break in the first week of May, which is normal for our vineyard. The vines and grapes developed well with a spring and early summer that were cooler than average. Temperatures did not exceed 40 degrees Celsius during the summer. Along with a slightly cooler start of the season, we were thankful that there were no major fires of concern near Lillooet in 2020.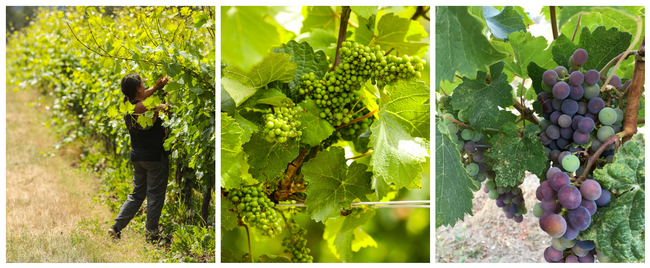 Veraison (when the grapes start to change colour from green to yellow or red) started on August 14th in our Pinot Noir grapes, which was 10 days later than normal. A heat spurt at the end of August and early September helped to ripen the grapes, and the sugars developed rapidly, so we were able to catch up on some of the time lost during the start of the season.
The grapes were able to achieve optimal ripeness, and harvest began on September 14th, which is around the same date as we normally begin harvest. We started with Pinot Noir for the Rosé, followed by Chardonnay and Pinot Gris in our Dry Creek Vineyard. We then picked Merlot and Cabernet Franc from our new Red Rock Vineyard, also for Rosé, followed by Riesling and Cabernet Franc from our Dry Creek Vineyard.
There were no extreme temperature variations in September, so the grapes maintained a gradual ripening process, allowing us to pick each varietal as they reached their optimal levels.
We had our first frost on October 22nd followed by our first snowfall on October 23rd. Thankfully, 90% of our harvest was in by this time, so it did not have a big impact. In the last two years, the first frost day was significantly earlier, October 9th, 2019, and October 3rd, 2018. This additional time before the first frost is important because it allows the vines time to absorb nutrients after harvest before they shut down for the season. This gives the vines the opportunity to build up reserves going into spring.
We completed harvest the week of October 29th.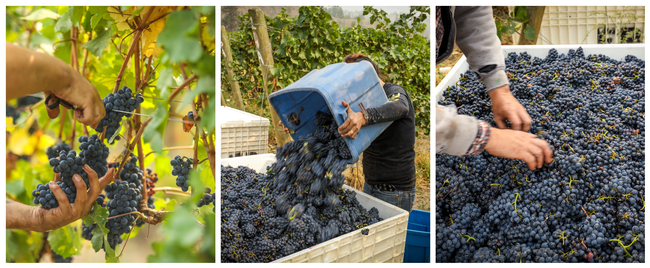 In addition to our estate-grown grapes, we also brought in grapes from other grape growers we work with in the Lillooet-Lytton area as well as from the Okanagan and Similkameen.
Overall, the grapes from this harvest were well balanced. They had a good amount of acidity and good sugar levels, so we anticipate a new vintage of wines that are fresh, clean, and beautifully fruit-forward. The white wines are aromatic and fragrant, and you'll be able to start enjoying them this spring and summer.
Grüner Veltliner is a grape variety that we've grown since 2011, and we planted just under an acre of it in our new Red Rock Vineyard in 2019. We were able to purchase Grüner Veltliner grapes from the Okanagan last fall, so this spring, we will be releasing our premier vintage of Grüner Veltliner made with these grapes. We look forward to producing our first estate vintage of Grüner Veltliner in 2021 or 2022.
We allocated most of the estate-grown Pinot Noir grapes to our Rosé. We are proud to say that this year's Rosé 2020 will again be 100% estate grown and therefore Lillooet VQA. We think the Rosé 2020 is delicious. Everything went right in the making of this popular wine. The Rosé 2020 is predominantly Pinot Noir, with small fractions of Cabernet Franc and Merlot from our young Red Rock Vineyard.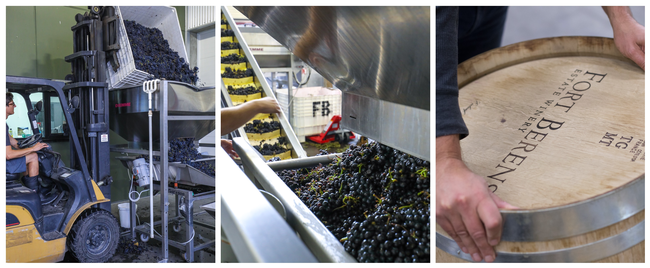 Grapes from specific blocks in the vineyard were allocated for our reserve wines. We reduce the crop in these blocks by adjusting our pruning and shoot thinning. We monitor these blocks more often throughout the season, take off bunches that are behind in development before harvest, making sure that only the very best quality of grapes goes into our reserve wines. In the winery, these grapes are then processed separately, going into the best barrels where applicable, and we take more time in the winery before bottling the reserve wines. As we taste the reserve wines throughout the aging process, we see that the extra special care given to these blocks is well worth it.
At this point, all of the wines are developing nicely, and we are very optimistic about our 2020 vintage. We can't wait to share our newest vintage with you.

With 10 years of growing grapes in our vineyard in Lillooet, we have seen a variety of weather patterns over the years. The weather tends to move in cycles with hot or cooler seasons, dry or wet seasons, years with fire or smoke, and seasons with more or less sunshine. When farming, we try our best to anticipate and ultimately adapt to variations in seasonal weather. We look at trends, but as farmers, we have to be prepared for whatever we are given. The seasonal variations we see each year create opportunities and challenges for each vintage and make our wines more interesting to taste and compare.
While our 2019 growing season started off average, the weather during harvest was challenging. We had a warm and dry spring with virtually no rain from February through May. Bud break in most of our blocks occurred at the end of April, which is average for this region. The vineyard developed well during the early summer with relatively early development in the summer months. During the summer, the temperatures were high, but not extraordinary, and we were fortunate not to have any smoky skies. We had a wet summer with more rain than normal. In September, temperatures cooled, and an early frost came on October 9th which caught us by surprise. The average temperature this season was well above the long-term average, similar to 2018, yet not as high as we saw in 2017. Overall, the quality of the fruit from this vintage was very good.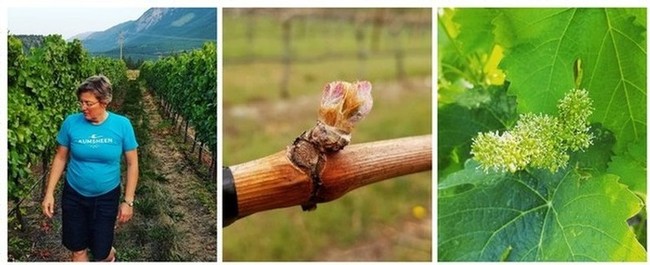 In 2019 we welcomed a new vineyard manager and a new winemaker to our Fort Berens team. Andrew Stone joined the team as our new vineyard manager, and James Cambridge joined us as our new (and returning) winemaker. Together they brought new enthusiasm, experience, and techniques. Andrew and James worked very well together to strategize, plan and execute each step of the vintage, from the growing, harvesting and winemaking process.
Andrew drew up a specific plan for each block in our vineyard based on the grapes being grown for specific wines. For each grape, there was a plan that covered crop load, pruning strategy, training requirements, and canopy management. The plan called for our vineyard team to pay special attention to the blocks that were identified for the Reserve Wines. Under Andrew's leadership, our vineyard team was empowered to take on more roles and responsibilities. Some team members specialized in tractor work, others in irrigation and spraying. He implemented a new fertilization and irrigation program for better consistency, with the goal being to give the vines what they need at the right time.
James uses a minimalist approach to the winemaking process to allow the fruit to speak for itself. He wants the wine to highlight the specific qualities of each vintage. The approach that James takes to winemaking is characterized by patience. He aims to take sufficient time for each step in the winemaking process: cold soaks prior to fermentation, slow ferments for whites by keeping temperatures low, longer post-maceration soaks for the reds after fermentation, and longer barrel aging to fully develop the wines he crafts. As we taste the wines throughout the aging process, we see that this labour-intensive winemaking practice is well worth it.
With a new, seasoned team in place, this vintage was highly anticipated. At this point, the wines are developing nicely and are well on their way to meet the higher expectations we have for them.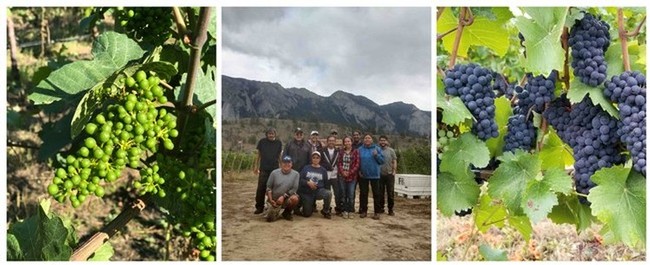 In terms of yield, the vintage turned out to be in line with our plans. More importantly, James was pleased with the quality of the grapes that came in from our Dry Creek Vineyard. We harvested about 82 tonnes of Pinot Noir, Chardonnay, Riesling, Pinot Gris, Cabernet Franc and Merlot from Dry Creek Vineyard. Another 75 tonnes came from our contract growers in the Lillooet area and from growers in the Okanagan and Similkameen.
In our plans for 2019, we decided that we would allocate all of the estate grown Pinot Noir grapes to our very popular Rosé. We encouraged the vigour of the vines with generous irrigation and limited shoot thinning. The grapes were harvested earlier in the season, at lower sugar levels. We are pleased with the results of this targeted approach, as it improved both the quality and quantity of the Rosé. We are proud to say that this years' Rosé 2019 will be 100% estate grown and therefore Lillooet VQA, and we will have more Rosé available than in previous years.

The Chardonnay from our vineyard was very clean and flavourful. Grapes from specific blocks in the vineyard allocated for the White Gold were whole-cluster pressed and 100% barrel fermented in a mix of new and neutral barrels. James used several different yeast strains to add complexity to the Chardonnay. Currently, the lees are being stirred every 2 weeks while the wine ages in French oak barrels. Chardonnay from the Similkameen will be combined with some of our estate fruit for the classic Chardonnay - 20% has been barrel fermented and 80% in stainless steel.
The Riesling vines in our Dry Creek Vineyard had a tough year. Unlike other varietals in the vineyard, Riesling suffered from significant bud damage. Bud break was much later in relation to other varietals and our normal average. We saw buds emerge from the trunk, the graft and other unusual spots on the plants. We suspect that cool weather patterns in late winter and early spring affected the buds and delayed bud break. The yield from our Riesling block was very small. Small yields typically excel in flavours, concentration, and complexity. At this stage, we have decided to allocate the entire volume to the Riesling Reserve as we are thrilled with the quality. Fortunately, the vines were not damaged and bounced back through the season. Therefore, we anticipate that with a good growing season in 2020, we will have a much larger crop of Riesling in 2020. We brought in Riesling grapes from Vernon, Oliver, and the Similkameen, which were fermented separately and will be combined to produce our Riesling 2019. We will also have a small quantity of Dry Riesling made with grapes from the Okanagan.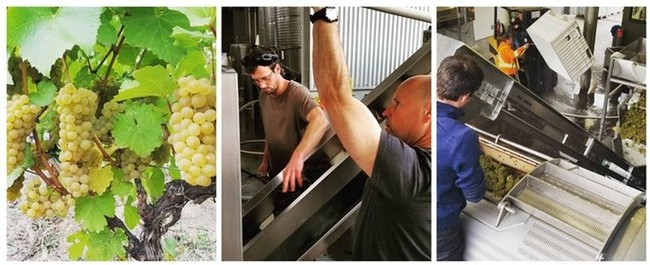 As the weather cooled in September, we had to wait a bit for the ripening and harvesting of the Pinot Gris, Cabernet Franc, and Merlot. When the frost came on October 9th, the vines lost their leaves and the grapes stopped developing sugars. Luckily, most varietals already had satisfactory levels of sugar and phenolics. The grapes were harvested as space opened up in the cellar. Some of the fruit was left a little longer, which dried the fruit out a bit and raised the sugar level, which will make for higher intensity and bolder reds. James used the same approach for processing all of our reds this year. The process started with a cold soak for 2 - 5 days prior to initiating fermentation. After the completion of fermentation, the wine was left for post-ferment maceration for 2 weeks. The wines are aging currently in new French and American oak barrels.

We have high expectations of both the red and white wines from the 2019 vintage. The white wines are showing to be well balanced with good acidity. They are very fresh with lovely fruit flavours. The Rosé has great colour and will be fresh without a lot of residual sugar. Many of the red wine grapes were brought in a little bit dried out, which means they will have increased intensity and will be more full-bodied. They were cold-soaked which resulted in a deeper colour, and in some cases more complex flavour. These wines will develop substantially over the longer-than-usual barrel aging period; 12 months for the classic reds and about 16 - 18 months for the reserve reds.
We are also thrilled to report that we completed planting the Red Rock Vineyard in May of 2019. A lot of time was spent making sure the small and growing vines are healthy as they develop. The Red Rock Vineyard now has 6 acres of Merlot, 5 Acres of Cabernet Franc, 3.5 acres of Riesling, 2 acres of Cabernet Sauvignon and 1 acre of Gruner Veltliner. This brings our estate vineyard to 38 planted acres. Our vineyard expansion means that in the years ahead, there will be more Lillooet-grown grapes, and we will have a broader selection of grapes to work with in Lillooet.
When we welcomed James back to the team as our winemaker, one of our goals was to have more consistency in our vintages. This vintage is very much on target. Stylistically, we are happy with this vintage. We couldn't be more excited to share the 2019 vintage with you. Thank you for waiting with us in anticipation of the release of our wines this coming year.

Fall is a wonderful time at the winery. It brings many seasonal changes including shorter days, longer and cooler nights, and the start of harvest. This time of year is both exciting and busy for us at Fort Berens. We check the grapes daily because we are now in the final weeks for the grapes to ripen before they are picked. Each varietal of grapes ripens at different times, generally starting mid-September and running through until about mid-October.
While this time of year is exciting, it is also a challenging time because we face many risks from birds and wildlife, as well as weather changes. As the grapes ripen, they become sweeter and very appealing to birds, mainly starlings and crows, as well as deer and even bears. In order to protect the grapes, we employ common farming practices including the use of fencing, netting and air cannons. The deer and bears are kept at bay with our fence. The use of air cannons is intended to scare away the birds. While we wish it wasn't the case, the birds are active in the early morning, throughout the day, and into the evening, so we need to start the air cannons early in the morning, generally at dawn, and we turn them off at dusk.
In addition to the birds and wildlife at this time of the season, we also need to deal with dropping temperatures. Frost damage is a real risk to the vineyard, so we utilize a wind machine to protect the leaves and grapes from frost. The wind machine automatically turns on during the night when temperatures drop below freezing.
We utilize common farming practices allowable on ALR land (Agricultural Land Reserve land) to deal with these situations. Because we are on ALR land, there are also exceptions to the noise bylaws for agriculture properties.
While our vineyards are located in the ALR, we are also close to residential properties and we know that the loud cycles of both the air cannons and the wind machines can be startling or upsetting to our neighbours, both humans and pets. We live on the property, and we understand the impact of these loud machines, both on our family and our family pets. We want you to know that we are continually assessing our situation to see what we need to do each day in order to protect the crops. We are trying to minimize the use of both air cannons and the wind machines, and we only use them when it's essential to do so.
The good news is that this is a short term situation, and once harvest is complete, we can all look forward to the end of these noisy tools, all while knowing that another vintage of delicious wines is just around the corner.
We thank our neighbours and the Lillooet community for the patience and understanding, and for all of your ongoing support.

2018 started off well. We had a mild winter, so there was not a lot of bud damage. We had a normal start to the growing season; it wasn't particularly early or exceptionally late. Warm weather in April accelerated the vine development and the buds began swelling. By the end of April, after multiple days of 25-degree weather, all our varieties had experienced bud break.
The heat and sun continued in May, which the vines loved. By May 17th, the shoots were growing rapidly and we could see the formation of flowers. We started to see bloom a little earlier than normal, on June 2nd, which was followed by hot weather. We had near optimal conditions during bloom, which meant bunch formation was very good. We had a little spot of rain on June 13th, which was the first rain we had had since April. The heat continued through June and July. As we had in the previous two summers, there was smoke from BC wildfires that stuck around for a part of the summer. The smoke caused reduced temperatures in the hottest summer months and as a result, the development of the grapes slowed down a bit.
We were anticipating a larger yield, and so in July, we started to thin the vines and dropped 45-50% of the grape clusters onto the ground. We did this to ensure that the remaining grapes were of the highest quality. Before veraison, in late July, we had a lot of rain which caused the berries to swell and the bunches to add weight and we ended the growing season with higher yields than normal.
Harvest started on September 12th, which is a normal start date for us in Lillooet. Chardonnay and Pinot Gris were the first varieties to be picked. Although we were surprised with an early snowfall in the vineyard on October 2nd, harvest continued as normal. We finished picking on November 2nd.
In addition to managing the ongoing summer smoke and fires, the greatest challenges we faced in our 2018 vintage related to the higher yield. Having more grapes meant a lot more work through every stage of the process. Our team met the challenge with long work weeks. Because of the higher yield, we also had space and capacity issues to manage in the winery, as barrels and tank space became tight.
Thanks to our wonderful growers in the Lillooet-Lytton region, as well as the Okanagan and Similkameen, our 2018 vintage turned out to be our largest ever.
Our 2018 vintage wines are beautifully balanced, lovely and fresh. We'll see the return of our Dry Riesling this year, along with our Classic Riesling and Reserve Riesling. All our Rieslings are fruit forward, lively, and zesty on the palate. The Pinot Gris is also fruit forward, clean and very approachable. The Rosé is again a blend of Gamay and Pinot Noir grapes. Fans of this wine will be happy to know that we produced more Rosé this year, so hopefully we'll have enough of this wine to make it through the summer. This year, we've added a Rosé that we made exclusively for Everything Wine, called "Rosé - Orange Edition", which contains Pinot Noir, Gamay and Muscat. The Chardonnay is still in tank and barrels and is promising to be fantastic. Danny said it's some of the best wine he's ever made. The reds are patiently ripening in barrels and will be bottled in August.
We are proud of the wines in our 2018 vintage. Everyone on the team worked incredibly hard to produce these wines and we can't wait to share them with you. These wines are special for another reason. They also mark the last wines that Danny and Megan will make with us. After five wonderful vintages, our talented winemaking and vineyard management duo decided they were ready to travel and explore. Megan stayed with us until the last grapes were harvested, and Danny remained until the white wine was bottled. We are thankful to both Danny and Megan for their contributions to our team, our winery, and to our wine region. While we are so grateful to them for producing such amazing wines over the years, they are also very thankful to every one of you that enjoyed these wines. They loved making wines for you, and they appreciated the feedback you provided to them. We wish them all the very best as they embark on their new adventures.
And speaking of new adventures, in addition to a fabulous vintage, 2018 was a milestone year for other reasons as well. We planted 4 acres of Merlot and 5 acres of Cabernet Franc in our new Red Rock Vineyard. We congratulated our friends Jodi and Keith as Fraser Bench Vineyard celebrated their first year in full production. We proudly celebrated Lillooet grape growing legends Doug and Christ'l Roshard, as this year marked the first year that we used some of their grapes in our wine. We saw continued growth and success at Frugal Vineyards and Winches Spur Vineyard in Lytton. In addition, we are proud that we now have a second licensed winery in Lillooet. Cliff & Gorge, located on the majestic Texas Creek Ranch, will open the doors to its tasting room in 2019. It seems very fitting then, with all the growth in both grape growing and winemaking in Lillooet, that 2018 also marked the year that Lillooet was officially marked on the map, receiving our very own Lillooet VQA designation.
There is much to celebrate from 2018 and beyond. Looking ahead to 2019, we'll be celebrating our 10th year in business. To mark this major milestone, we have a special 10th Anniversary project on the go. All we can say at this point is that we are making something very special to celebrate our 10th anniversary and the Lillooet grape-growing region. Stay tuned for more details.

LILLOOET, BC – The Riesling 2018 from Fort Berens Estate Winery in Lillooet has just received top honours. It was named Best White Wine at the 2019 Pacific Rim Wine Competition. After winning Best in Class for the Riesling category, it went on to be awarded the Best White Wine in the entire competition.
Rolf de Bruin, co-founder and co-owner of Fort Berens shared, "We are honoured and humbled to see our Riesling recognized with this outstanding award from such a prestigious international wine competition. We could not be more proud that this Lillooet Riesling was judged to be the top of its class in this international wine competition. In addition to the Best White Wine award for the Riesling 2018, we were also awarded a Double Gold for the 2018 Riesling Reserve at this competition."
Since 1985, the Pacific Rim Wine Competition has held a two-day, blind-tasting event with an esteemed panel of international judges representing all aspects of the wine industry. The judges evaluate the wines and award medals accordingly. This competition celebrates high-quality wines of all styles, from all regions of the world. The 2019 competition featured 1,000 wines from wineries around the world.
While there were many Canadian wineries that received a variety of medals in the competition, the Fort Berens Riesling 2018 was the only Canadian wine to be included in the list of the top 5 wines of the competition.
Rolf explained, "As the first winery in Lillooet, we see it as our duty to showcase the region and our unique terroir. From early days, we knew that the Riesling grape was able to express the Lillooet terroir. Our 2012 Riesling won the very prestigious 2014 Lieutenant Governor's Award for Excellence in British Columbia Wines. Since that time, our Rieslings have been awarded numerous prizes along the way. See the sidebar for a list of all Gold medals awarded to Fort Berens Riesling. These outstanding results reaffirm that Riesling is one of the signature grapes for our winery and the Lillooet region. The region experiences huge diurnal variations during late summer and early fall. These swings from high daytime temperatures to cool nights preserve the fresh fruit qualities of our grapes. The retained acidity allows for superb balancing of residual sugar at a number of different points, whether the wine is dry, off-dry or medium sweet. The versatility of the Riesling grape combined with the excellent growing conditions in Lillooet, create an award-winning combination."
Fort Berens was awarded a number of medals at the 2019 Pacific Rim Wine Competition, including:
Riesling 2018 – Gold, Best in Class, Best White Wine
Riesling Reserve 2018 – Double Gold
Rosé 2018 – Double Gold
Cabernet Franc Reserve 2016 – Gold
Chardonnay 2017 – Silver
Pinot Gris 2018 – Bronze
Pinot Noir 2016 – Bronze
Fort Berens wines are available for sale at the winery, online, and at fine liquor stores and restaurants around BC.
For the full list of winners visit: http://pacificrimwinecomp.com/pacific-rim-wine-competition-results/
Fort Berens Estate Winery is a culmination of the dreams, vision and pioneering spirit of several entrepreneurs – Heleen Pannekoek, Rolf de Bruin, Hugh Agro, Sean Harvey, Jason Neal, John McConnell, Tara Christie, Raymond Rae, Joseph Neal, Dan Barnholden and Patrick & Caroline Downey. The owners of Fort Berens share a common belief in the incredible winemaking potential of the area and a shared vision to make Fort Berens into one of Canada's leading producers of fine wine. With its vineyards on sagebrush covered benchland along the Fraser River at the base of towering mountains, Fort Berens embraces the spirit of Lillooet. Discover Fort Berens Estate Winery, Lillooet's first winery, in BC's newest wine region and explore 150 years of pioneering spirit. For more information, call 1.877.956.7768, visit www.FortBerens.ca, or follow them on Facebook, Twitter and Instagram.

Fort Berens Reserve Wine Pairings
At Fort Berens, we offer a wide range of wines each with a distinct style. Over the years, we have been able to cultivate and refine our approaches in the vineyard and cellar and have expanded our collection to include a full series of small lot, ultra premium reserve wines which express the unique terroir of our region. We have currated for you here a quick reference to some food pairing suggestions that we think would work wonderfully with these wines.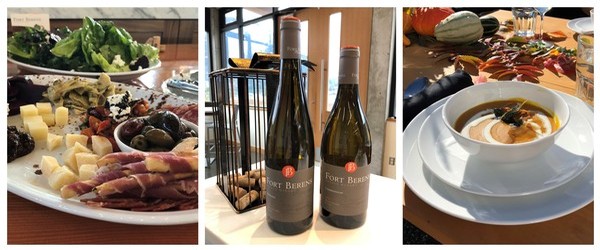 Chardonnay Reserve (White Gold)
Wine style: dry, crisp, with juicy acidity, fruit forward, medium body, oaked
Food pairings: Enjoy with a stuffed roast chicken, potatoes au gratin, or for the ultimate luxury, lobster.
Riesling Reserve
Wine style: off-dry, crisp, with higher acidity and minerality, fruit forward, concentrated, medium body
Food pairings: Enjoy the Riesling Reserve with spicy Pad Thai, cheese fondue, or a rich and creamy Alfredo sauce over linguine.
Red Gold
Wine style: rich, velvety, full bodied, long and intense finish, plush tannins
Food pairings: Red Gold is the perfect wine to pair with your finest cuts of beef or big game. Enjoy this bold wine with a well-marbeled porterhouse steak or hearty moose stew.
Pinot Noir Reserve
Wine style: concentrated, savoury earthy flavours, bright cherry fruit, elegant, long finish
Food pairings: While a fireplace is not required, it is certainly recommended while enjoying this wine paired with a fire-roasted tomato lentil stew, grilled salmon, or roasted duck.
Cabernet Franc Reserve
Wine style: opulent blueberry and blackberry aromas, purple floral perfume, medium body, ripe tannins, long finish
Food pairings: This wine pairs beautifully with lamb, duck, or tomato and basil pizza.
Meritage Reserve
Wine style: Earthy, intensly structured, powerful, high acidity and tannins, boldy flavourful
Food pairings: Enjoy this wine with roasted lamb, spaghetti bolognese, or lasagna.

FOR IMMEDIATE RELEASE
September 21, 2018
LILLOOET, BC – The results are in and Lillooet's Fort Berens Estate Winery has some new awards to add to their growing list. Fort Berens won four awards in the second annual Best of BC Wine Country 2018 awards.
The Best of BC Wine Country is a crowdsourced online survey curated by the BC Wine Institute, inviting the public to vote on their favourite BC wine experiences from a variety of "Best of" categories: Best of BC Wine; Best of BC Place; Best of BC Experience. Wine lovers voted for their favourites in each of the various BC wine regions, including the Okanagan Valley, Similkameen Valley, Vancouver Island, Gulf Island, Fraser Valley, and the new appellations (Thompson Valley, Lillooet, Shuswap and Kootenays).
As voted on by the public, the Best of BC Wine Country 2018 included the following regional awards for Fort Berens:
Fort Berens Estate Winery Riesling – Best BC White Wine
Fort Berens Estate Winery Rosé – Best BC Rosé Wine
Fort Berens Estate Winery – Best BC Winery Tasting Room
The Kitchen at Fort Berens – Best BC Winery Restaurant Showcasing Local Food
Rolf de Bruin, co-founder and co-owner of Fort Berens explained, "We were absolutely delighted to find out that we won these four Best of BC Wine Country awards. To have the support of our community in Lillooet and beyond vote for us means so much to our entire team. These awards show that we are meeting our goals of producing outstanding quality wine from Lillooet, providing an outstanding experience to our guests in the tasting room, and showcasing the incredible local food in our restaurant, The Kitchen at Fort Berens. As the first winery in Lillooet, we are so honoured to be able to showcase our emerging and growing wine region."
Travel expert and best-selling author of Travel Best Bets, Claire Newell supported the awards on social media blogging, "Here in BC they are essentially the people's choice awards of wine. Winners are voted on by tourists and locals – not wine experts making this a truly consumer-based award."
"The results show authentic recommendations from the public on what to do and where to go for the best wine touring experiences throughout BC's diverse wine regions, and we are thrilled to share their choices!" notes Maggie Anderson Director of Communications and Content of the BC Wine Institute.
Click here for the full list of regional winners.

To our Lillooet neighbours, we wanted to give you a head's up that in the coming days we will be operating our air cannons (otherwise known as propane cannons or bird bangers or audible bird scare devices). These air cannons help scare away birds and other wildlife. We just started up our air cannons because the deer are particularly problematic in the recently planted vineyard right now. We are trying to ensure the deer don't strip these young vines. The good news is that this is a short-term issue. We anticipate it will be just another week where we have to run these air cannons. While we wish it wasn't the case, the deer and birds are very active in the early morning, which is why we need to start the air cannons so early in the morning. This is why there are exceptions to the noise bylaws for agriculture properties. In the days ahead when we know that the air cannons will be operating, it might be good to go to bed with some white noise such as running a fan or music in your bedroom. You can also try an app on your phone or tablet called "Calm" which features free sleep music and sleep stories which may offset the noise of the air cannons. Again we apologize. We thank you so much for your understanding.
For more information on this common farming practice, click here.