LILLOOET VQA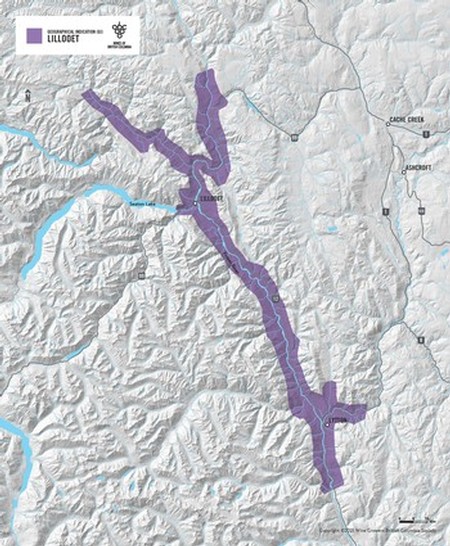 The Lillooet appellation is roughly defined as all lands below 1,000 meters in elevation along a stretch of the Fraser River from about 25 km north of Lillooet to just south of Lytton. It also includes a smaller section along the Thompson river before it joins the Fraser River at Lytton. The appellation measures about 100 km from north to south and is in most places just 3-5 km in width. This is comparable in size as the Côte-d'Or in the heart of Burgundy
The total arable acres suited for grape production is estimated at 3,000-5,000 acres. If this area is fully planted, the acreage will be similar to Côte de Nuits in Burgundy or Stag's Leap District in Napa. Most of the arable and irrigated land within the appellation is between 230 and 500 meters in elevation.
Please find below some resources about the area.
Solar Radiation Mapping completed by Dave Whiting and Associates in 2011
(Funded by the BC Grape Growers Association)
Solar Radiation Maps cover three sections of the Fraser Canyon between Lytton and Big Bar, grossly covering the Lillooet VQA appellation.
North section: Download (12Mb)
Lillooet section: Download (11Mb)
Lytton section: Download (10Mb)