December 15, 2018 | Food & Wine | Rolf de Bruin
Reserve Wine & Food Pairings
Fort Berens Reserve Wine Pairings
At Fort Berens, we offer a wide range of wines each with a distinct style. Over the years, we have been able to cultivate and refine our approaches in the vineyard and cellar and have expanded our collection to include a full series of small lot, ultra premium reserve wines which express the unique terroir of our region. We have currated for you here a quick reference to some food pairing suggestions that we think would work wonderfully with these wines.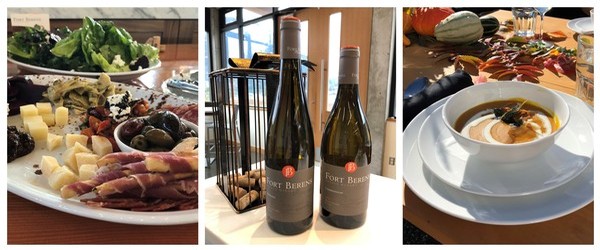 Chardonnay Reserve (White Gold)
Wine style: dry, crisp, with juicy acidity, fruit forward, medium body, oaked
Food pairings: Enjoy with a stuffed roast chicken, potatoes au gratin, or for the ultimate luxury, lobster.
Riesling Reserve
Wine style: off-dry, crisp, with higher acidity and minerality, fruit forward, concentrated, medium body
Food pairings: Enjoy the Riesling Reserve with spicy Pad Thai, cheese fondue, or a rich and creamy Alfredo sauce over linguine.
Red Gold
Wine style: rich, velvety, full bodied, long and intense finish, plush tannins
Food pairings: Red Gold is the perfect wine to pair with your finest cuts of beef or big game. Enjoy this bold wine with a well-marbeled porterhouse steak or hearty moose stew.
Pinot Noir Reserve
Wine style: concentrated, savoury earthy flavours, bright cherry fruit, elegant, long finish
Food pairings: While a fireplace is not required, it is certainly recommended while enjoying this wine paired with a fire-roasted tomato lentil stew, grilled salmon, or roasted duck.
Cabernet Franc Reserve
Wine style: opulent blueberry and blackberry aromas, purple floral perfume, medium body, ripe tannins, long finish
Food pairings: This wine pairs beautifully with lamb, duck, or tomato and basil pizza.
Meritage Reserve
Wine style: Earthy, intensly structured, powerful, high acidity and tannins, boldy flavourful
Food pairings: Enjoy this wine with roasted lamb, spaghetti bolognese, or lasagna.
Comments
Commenting has been turned off.