March 2, 2021 | Rolf de Bruin
2020 Vintage Report
2020 represented a key milestone for us, as it marked the completion of our 10th harvest here at Fort Berens. For a winery in an emerging wine region, this is an important milestone and one worth pausing to celebrate. We are eternally grateful for the support from Lillooet, our customers, liquor stores and restaurants, and the entire BC wine, tourism, and hospitality industry. We would not be here today without all of your unwavering support.
When we first planted our vineyard, many wondered if we could grow grapes here in Lillooet. Not only did we demonstrate that we could grow grapes here, but we have shown that we can grow grapes that produce highly regarded, award-winning wines that reflect our unique terroir.
As a result of increased demand and our desire to further showcase the Lillooet VQA, we planted our 18-acre Red Rock Vineyard in 2018 and 2019 and it now has 6 acres of Merlot, 5 acres of Cabernet Franc, 3.5 acres of Riesling, 2 acres of Cabernet Sauvignon, and 1 acre of Grüner Veltliner. This brings our estate vineyard to 38 planted acres.
We were very pleased to have the first crop from our Red Rock Vineyard in 2020. This year we harvested Merlot and Cabernet Franc from the vines we planted in 2018. With our estate vineyard expansion now complete and starting to produce fruit, this means that in the years ahead, we will have more Lillooet-grown grapes, and we are excited to introduce two new varietals in our vineyard.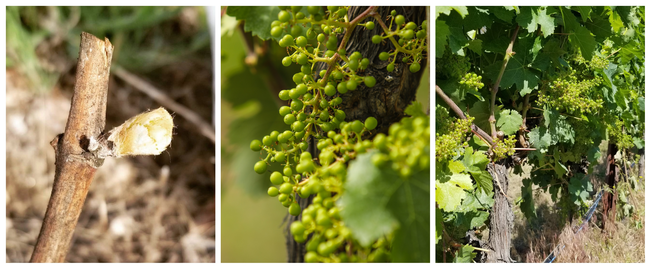 The 2020 crop came in substantially lower than average. This was mostly due to smaller berry size and didn't become apparent until later in the growing season. Smaller berries are great for colour and flavour, but typically, we see smaller bunch size (fewer berries per cluster) and fewer bunches per vine as leading causes for lower crop yields. This year, most indicators were normal, but in the end, the berries didn't swell like they usually do. Some varietals ended up coming in with yields 20-40% lower than normal. Lower cropping levels meant we had less fruit to work with, and ultimately 2020 will be one of our smallest crops from our Dry Creek Vineyard since it came into full production. Having a small 2020 vintage means we are likely going to sell out of our wines more quickly than normal.
The 2020 season saw bud break in the first week of May, which is normal for our vineyard. The vines and grapes developed well with a spring and early summer that were cooler than average. Temperatures did not exceed 40 degrees Celsius during the summer. Along with a slightly cooler start of the season, we were thankful that there were no major fires of concern near Lillooet in 2020.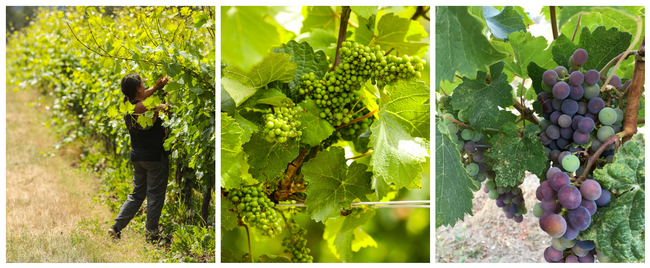 Veraison (when the grapes start to change colour from green to yellow or red) started on August 14th in our Pinot Noir grapes, which was 10 days later than normal. A heat spurt at the end of August and early September helped to ripen the grapes, and the sugars developed rapidly, so we were able to catch up on some of the time lost during the start of the season.
The grapes were able to achieve optimal ripeness, and harvest began on September 14th, which is around the same date as we normally begin harvest. We started with Pinot Noir for the Rosé, followed by Chardonnay and Pinot Gris in our Dry Creek Vineyard. We then picked Merlot and Cabernet Franc from our new Red Rock Vineyard, also for Rosé, followed by Riesling and Cabernet Franc from our Dry Creek Vineyard.
There were no extreme temperature variations in September, so the grapes maintained a gradual ripening process, allowing us to pick each varietal as they reached their optimal levels.
We had our first frost on October 22nd followed by our first snowfall on October 23rd. Thankfully, 90% of our harvest was in by this time, so it did not have a big impact. In the last two years, the first frost day was significantly earlier, October 9th, 2019, and October 3rd, 2018. This additional time before the first frost is important because it allows the vines time to absorb nutrients after harvest before they shut down for the season. This gives the vines the opportunity to build up reserves going into spring.
We completed harvest the week of October 29th.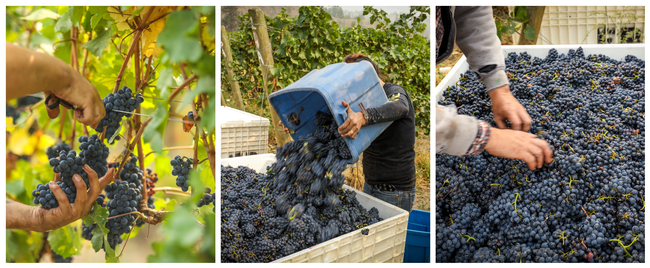 In addition to our estate-grown grapes, we also brought in grapes from other grape growers we work with in the Lillooet-Lytton area as well as from the Okanagan and Similkameen.
Overall, the grapes from this harvest were well balanced. They had a good amount of acidity and good sugar levels, so we anticipate a new vintage of wines that are fresh, clean, and beautifully fruit-forward. The white wines are aromatic and fragrant, and you'll be able to start enjoying them this spring and summer.
Grüner Veltliner is a grape variety that we've grown since 2011, and we planted just under an acre of it in our new Red Rock Vineyard in 2019. We were able to purchase Grüner Veltliner grapes from the Okanagan last fall, so this spring, we will be releasing our premier vintage of Grüner Veltliner made with these grapes. We look forward to producing our first estate vintage of Grüner Veltliner in 2021 or 2022.
We allocated most of the estate-grown Pinot Noir grapes to our Rosé. We are proud to say that this year's Rosé 2020 will again be 100% estate grown and therefore Lillooet VQA. We think the Rosé 2020 is delicious. Everything went right in the making of this popular wine. The Rosé 2020 is predominantly Pinot Noir, with small fractions of Cabernet Franc and Merlot from our young Red Rock Vineyard.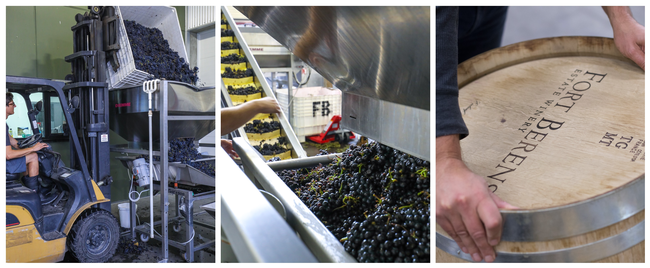 Grapes from specific blocks in the vineyard were allocated for our reserve wines. We reduce the crop in these blocks by adjusting our pruning and shoot thinning. We monitor these blocks more often throughout the season, take off bunches that are behind in development before harvest, making sure that only the very best quality of grapes goes into our reserve wines. In the winery, these grapes are then processed separately, going into the best barrels where applicable, and we take more time in the winery before bottling the reserve wines. As we taste the reserve wines throughout the aging process, we see that the extra special care given to these blocks is well worth it.
At this point, all of the wines are developing nicely, and we are very optimistic about our 2020 vintage. We can't wait to share our newest vintage with you.
Comments
Commenting has been turned off.