October 11, 2016 | Rolf de Bruin
Announcing our Red Gold 2014
Five years ago, we released our White Gold. The White Gold was created in 2010 when two barrels of Chardonnay tasted so magnificent that we wanted to share this exceptional quality with you rather than adding it to our Chardonnay blend. In 2014, while barrel sampling our red wines, we discovered a few barrels that were of similar exceptional quality worthy of the Red Gold designation. And today, we are thrilled to announce that our first ever Red Gold will be coming this fall.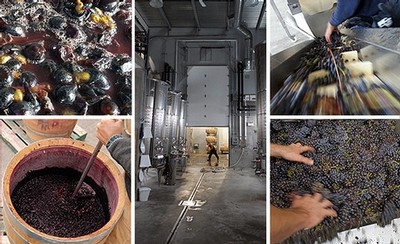 The Red Gold 2014 is the product of the exceptional care from three grape growers and our winemaker. It is a blend of estate Cabernet Franc, estate Merlot, Cabernet Sauvignon from Roger Pires' vineyard in Osoyoos and Merlot from Blind Creek vineyard in the Similkameen. These three sites produce excellent fruit and the 2014 vintage was among the best in a long time.
In the fall of 2014 as the grapes came in, our winemaker, Danny Hattingh, was hugely impressed with the quality of the fruit. Danny was given free rein to foster the quality of this fruit and to experiment to express the true potential of the fruit. His drive to experiment, to do things differently, to learn and to embrace new approaches led to truly unique wine that combines the very best of three excellent growing regions.
With just 100 cases produced, the Red Gold is an iconic and collectible wine. In its youth, it was already awarded two Gold Medals, one at the San Francisco International Wine Competition and the other at the Pacific Rim Wine Competition. In London, UK at the International Wine & Spirits Competition it won a silver medal.
The Red Gold will be launched at Cornucopia in Whistler from November 10-21, 2016. The Red Gold will be launched at a private Media & Trade event at the Audian Museum on Thursday November 10th. The Red Gold will be served at a winemaker's dinner at the Four Seasons and at Cellar Door, both on Friday, November 11th. There is a special public seminar dedicated to Red Gold on Sunday November 13th.
To commemorate the launch of the Red Gold, we approached William Matthews, an amazing local fine art painter, to create a label for a limited edition Magnum. The hand painted oil canvas on each bottle represents the unique landscape as seen from the winery. The canvas, which can be removed and framed, can be a silent testimony to a time where we celebrate the art of winemaking. This limited edition, of only 48 Magnums, is in every way a magnificent work of art designed to match the art of the winemaking involved in crafting the Red Gold.
Comments
Commenting has been turned off.