March 29, 2018 | Rolf de Bruin
Growth is Blooming
FOR IMMEDIATE RELEASE
March 29, 2018
LILLOOET, BC – There is lots of activity happening over at Fort Berens Estate Winery these days.
Rolf de Bruin, co-founder and co-owner of Fort Berens explained, "After nine years of tending our first vineyard, experimenting and learning, we are now working on our second vineyard, which we currently refer to as our north field. We have plowed the field, and we have started planting our second vineyard, so things are getting very real and exciting."
The north field vineyard will represent a total of about 18 new acres to be planted in 2018 and 2019. In 2018, planting will include 4 acres of Merlot and 5 acres of Cabernet Franc. Planting will continue in 2019 with 3.5 acres of Riesling, 2 acres of Cabernet Sauvignon,1.5 acres of Gruner Veltliner, and 2 acres of Merlot.
Rolf continued, "This is exciting news for our emerging wine region. The expansion of the vineyard reflects our confidence in the Lillooet area growing region. It also shows our determination and commitment to produce wines from our estate and from grapes from other vineyards in the Lillooet region."
This vineyard expansion means that in the years ahead there will be more Lillooet grown grapes, and therefore more wine will be made here in Lillooet. This will be a welcomed response for wine lovers, as the demand continues to increase for wines from Fort Berens.
Currently, the team at Fort Berens is looking for a new name for the north field vineyard. If you have any suggestions, comment on their Facebook post or email them to info@fortberens.ca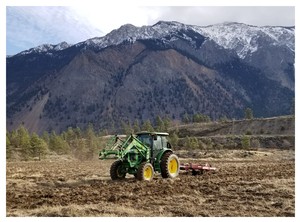 For further information, please contact:
Kim Lawton
DogLeg Marketing & Business Solutions
250.488.0878
klawton@DogLegMarketing.ca
Comments
Commenting has been turned off.