February 5, 2015 | Rolf de Bruin
PRESS RELEASE: Fort Berens Estate Winery Welcomes Barnholden and Downey. 2015 Promises to be an Exciting Year!
FOR IMMEDIATE RELEASE
February 5, 2015
LILLOOET, BC. Fort Berens Estate Winery is pleased to welcome Vancouver-residents Dan Barnholden and Patrick Downey to the award-wining winery's Ownership Team. Dan and Patrick have joined founders Rolf de Bruin and Heleen Pannekoek, along with early partners Hugh Agro, Sean Harvey, Jason Neal and John McConnell, to help fund Fort Berens' estate-grown grape production capacity and future business growth.
"We are delighted to make this announcement. Dan and Patrick round out Fort Berens' Ownership Team and their investment will allow us to expand the production and distribution of estate-grown grapes and wine from our Lillooet vineyard," said co-founder, Rolf de Bruin.
Dan's family roots in BC's interior trace back several generations. A good friend and long-time business associate of a number of the owners, Dan's high level of integrity and family connections in Lillooet make him a natural addition to the team.
Patrick brings to Fort Berens his boisterous spirit and infectious energy. Another good friend of a number of the owners, Fort Berens' guests and patrons can expect to see a lot of Patrick at the winery in Lillooet and in the nearby town of Whistler where he frequently skis and cycles.
2015 promises to be an exciting year at Fort Berens. Rolf explained, "2014 was an excellent year for us at Fort Berens as we completed construction and had the official grand opening of our new winery building and tasting room. As part of the next phase of our growth, this summer we will begin offering lunch service on our patio, which features a gorgeous view of our vineyard and the impressive Coastal Mountains."
After selling out a number of wines in 2014, Fort Berens is also working on plans to expand production. Rolf continued, "We are working together with a few local farms to plant additional vineyards in the Lillooet region. We are also starting to think about the first steps in the development of our second estate vineyard on the benchlands directly north of our current vineyard. We have exciting plans for this year and we think 2015 will be another successful year."
Fort Berens Estate Winery is a culmination of the dreams, vision and pioneering spirit of eight entrepreneurs – Heleen Pannekoek, Rolf de Bruin, Hugh Agro, Sean Harvey, Jason Neal, John McConnell, Dan Barnholden and Patrick Downey. The owners of Fort Berens share a common belief in the incredible winemaking potential of the area and a shared vision to make Fort Berens into one of Canada's leading producers of fine wine. With its vineyards on sagebrush-covered benchland along the Fraser River at the base of towering mountains, Fort Berens embraces the spirit of Lillooet. Alpine breezes, lingering summer sunlight and moderate winters provide a unique terroir ideal for growing premium grapes. Discover Fort Berens Estate Winery, Lillooet's first winery, in BC's newest wine region and explore 150 years of pioneering spirit. For more information, call 1.877.956.7768, visit www.FortBerens.ca, or follow them on Facebook and Twitter.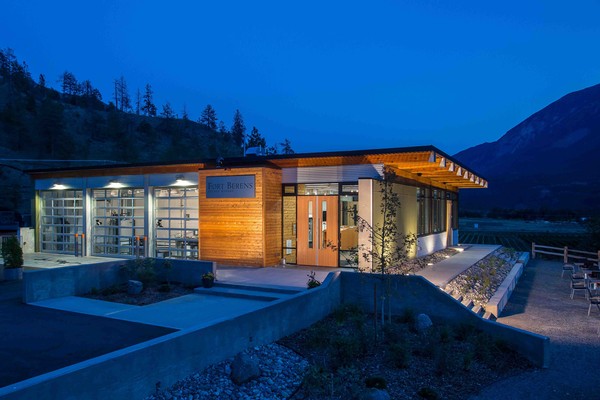 Photo Credit: Brad Kasselman/coastphoto.com
-30-
For further information and additional photos, please contact:
Kim Lawton
DogLeg Marketing & Business Solutions
250.488.0878
klawton@DogLegMarketing.ca
Comments
Commenting has been turned off.