September 23, 2014 | Rolf de Bruin
PRESS RELEASE: Fort Berens opens new winery
FOR IMMEDIATE RELEASE
September 23, 2014
LILLOOET, BC. On September 18th, Fort Berens Estate Winery held an official grand opening ceremony to celebrate the opening of their new winery building. To mark this key milestone, Hugh Agro, Heleen Pannekoek and Rolf de Bruin, on behalf of the entire ownership team, raised a new flag at their new winery. Dignitaries, media, staff and key supporters were in attendance for the special ceremony.

Photo Credit: Brad Kasselman/coastphoto.com
Rolf de Bruin explained as part of the grand opening ceremony, "More than 150 years ago, with the discovery of gold in British Columbia, the Hudson's Bay Company set up a trading post on this very site called Fort Berens. The early pioneers that came to Lillooet during that time came in search of gold. They came from afar and often had no idea of what lay ahead. However, they were determined and willing to work hard to uncover the riches of this uncharted territory. They saw the potential of this land and seized it. While the trading post didn't last long, the pioneering spirit has been forever instilled on this property. At Fort Berens Estate Winery, we're also pioneers, much like those who settled the area so many years ago. Only this time, instead of gold mining, we're discovering a new viticulture region in British Columbia and developing a new culture of grape growing and winemaking. Today we mark the official grand opening of our new winery building. Instead of a traditional ribbon cutting, as a tribute to those that built the Hudson's Bay fort on this site 150 years ago, we are raising a flag to commemorate our new fort."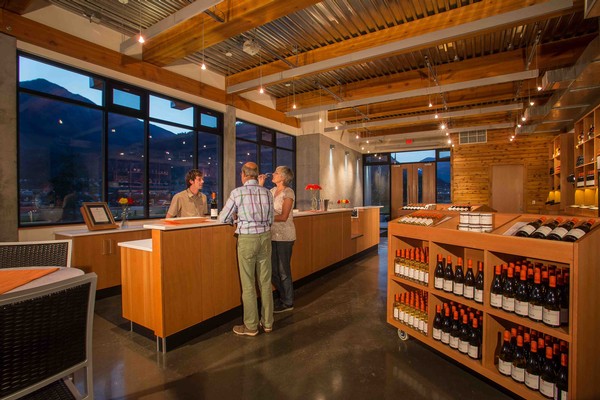 Photo Credit: Brad Kasselman/coastphoto.com
Fort Berens' new winery building is a 9,500 square foot facility including tasting room, crush pad, wine cellar, warehouse and surrounding guest patio and picnic areas. Toronto-based David Agro and Vancouver-based Richard Newell were collaborating architects on the project and Okanagan-based Greyback Construction built the new winery. The tasting room provides a spectacular view of the coastal mountain range and vineyard, so that people can get a sense of the area while enjoying the wines. It was also designed so that guests can view it as a working winery where they can see the process of creating the wine from grape to bottle. The new winery was completed over a period of about twelve months at a cost of approximately $3.5 million. This takes the committed investment into Fort Berens to $8 million to-date and is reflective of the owners' confidence in Lillooet as an emerging high-potential winemaking region in BC.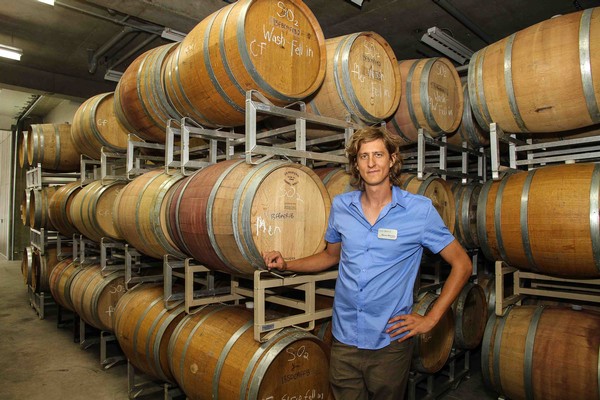 Photo Credit: Brad Kasselman/coastphoto.com
Hugh Agro talked about the potential for Fort Berens, Lillooet and this emerging wine region. "From the beginning, all of us involved in Fort Berens have believed in the potential of this business, this terroir and the Lillooet area. We have taken calculated risks and we have constructed a solid foundation from which to build a celebrated brand worthy of the accolades we receive. We feel like we're on the right path and we are excited to mark this next step in our journey."
Heleen Pannekoek described the team's journey so far "We have grown from humble beginnings, selling 170 cases of wine in 2009. This year we plan to produce 6,000 cases. And this is the first year that we will produce our own wine, on our own property, with our own full time winemaker. On our adventure, we have learned and we have experimented. We've discovered things that we can do differently. Ways that we can push the boundaries. And we've had some great successes. From our early days, we have received a number of awards for our wine. BC, Canadian and International awards and most recently a Lieutenant Governor's Award for Excellence in British Columbia Wines. These awards show us we are on the right track."
At the completion of the special ceremony, Rolf summarized, "At Fort Berens, we continue to push the boundaries and mindfully and responsibly search for excellence. We look forward to continuing to learn more about the terroir in Lillooet and we are excited to produce unique wines that highlight the distinct flavours of Lillooet."
They now have the facility to do precisely this! Congratulations to the team at Fort Berens Estate Winery. It will be exciting to watch for their next milestones!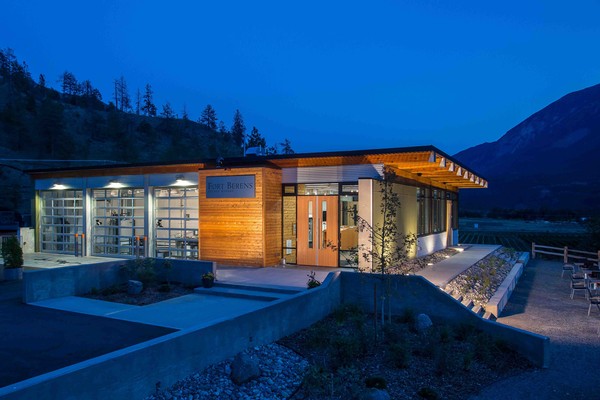 Photo Credit: Brad Kasselman/coastphoto.com
Fort Berens Estate Winery is a culmination of the dreams, vision and pioneering spirit of seven entrepreneurs – Heleen Pannekoek, Rolf de Bruin, Hugh Agro, Sean Harvey, Jason Neal, John McConnell and Dan Barnholden. The seven owners of Fort Berens share a common belief in the incredible winemaking potential of the area and a shared vision to make Fort Berens into one of Canada's leading producers of fine wine. With its vineyards on sagebrush-covered benchland along the Fraser River at the base of towering mountains, Fort Berens embraces the spirit of Lillooet. Alpine breezes, lingering summer sunlight and moderate winters provide a unique terroir ideal for growing premium grapes. Discover Fort Berens Estate Winery, Lillooet's first winery, in BC's newest wine region and explore 150 years of pioneering spirit. For more information, call 1.877.956.7768, visit www.FortBerens.ca, or follow them on Facebook and Twitter.
-30-
For further information and additional photos, please contact:
Kim Lawton
DogLeg Marketing & Business Solutions
250.488.0878
klawton@DogLegMarketing.ca
Comments
Commenting has been turned off.