Vineyard Manager (Filled)
This is an exciting opportunity for the right individual looking to advance their career in viticulture. The priority is finding the right person to join our team and help us grow premium grapes.
Responsibilities:
The Vineyard Manager will be responsible for:
- The labour in and the equipment and management of our20 acre vineyard;
- Building and managing a team of vineyard workers;
- Managing crop levels and costs within the vineyard budget;
- Employee health and safety policies and procedures
- Drafting and executing a sustainable vineyard plan, that delivers premium quality fruit, in co-operation with the wine maker;
- Drafting, updating and executing the Environmental Farm Plan and the BC Sustainable Practices for Vineyards.
The Vineyard Manager must be willing to work non-standard hours, including evenings and weekends, as needed.
Qualifications:
- 5 years experience in vineyard management;
- Intimate knowledge of BC viticulture, sustainable vineyard management and best practices;
- Knowledge of and experience with the operation of vineyard equipment;
- Highly motivated to learn and discover with us in this new viticulture region;
- A leader and team player, able to work and interact with many different players;
- Physically fit and able to work outdoors throughout the year;
- BC driver's license; Pesticide Applicator Certificate; First Aid Level I; Forklift certificate.
- Functional knowledge of office software;
Offer:
We offer a permanent full time contract. Salary and benefits will be according to experience.
How to apply / contact information:
Apply by sending your resume and motivation before February 7 to:
Email: heleen@fortberens.ca
Fort Berens Estate Winery
Attn. Heleen Pannekoek
PO Box 758
Lillooet, BC V0K 1V0
250-256-7788
Location:
1881 Highway 99 north
Lillooet, BC V0K 1V0
About us:
Our vineyard is located in the magnificent Fraser Canyon across the Fraser River from the town of Lillooet. Lillooet is one of the "Hot Spots" in Canada, with a climate that is comparable with the South Okanagan. The Coast Mountains to the west of Lillooet keep rain and clouds away, ensuring that the vines receive plenty of sunshine. In 2009, we planted 20 acres with six varieties: Riesling, Pinot Gris, Chardonnay, Pinot Noir, Cabernet Franc and Merlot. In the future, we will expand with another 20 acres.
We make and sell premium, award winning BC VQA wines. We believe that great wines are grown, not made. To support us in growing premium grapes, we are looking for professional leadership in our vineyard. If you are qualified and are looking to live in a beautiful environment with affordable housing, please apply now!

FOR IMMEDIATE RELEASE
November 19, 2013
Cornucopia's White Wine of the Year Award!
LILLOOET, BC. The Fort Berens Estate Winery team is back from their recent adventure to Whistler with some great news. Their 2012 Chardonnay picked up the distinguished title of "White Wine of the Year" at Cornucopia, an annual celebration of food and wine, which was held in Whistler Nov. 7-17th.
Winery co-owner Heleen Pannekoek, who accepted the award on behalf of the Fort Berens team, is absolutely thrilled. Pannekoek explained, "Winning White Wine of the Year at Cornucopia is a huge honour for our team. We founded the winery in 2009, and to win such an important award so early on in our winemaking career shows us we are on the right path. We were so pleased to learn that our Chardonnay won amongst so many other amazing white wines."
Pannekoek continued, "This award is very special for us for another reason as well. Our 2012 Chardonnay is our first 100% estate grown Chardonnay. This award is confirmation that the terroir in Lillooet is well suited to growing top-quality Chardonnay. Our vineyard team has done a fantastic job of nurturing the vines to maturity and that care is reflected in the 2012 vintage." For more information on the awards, visit http://whistlercornucopia.com/top-25-winners-of-2013/
Heleen's husband and winery co-founder Rolf de Bruin added, "About 30% of the volume was fermented and aged in new and seasoned French barrels, while the remainder was fermented cool in stainless steel tanks. We created a wine that is vibrant in its fruit profile with a lingering finish that is perfectly paired with scallops or poached salmon."
Beppi Crosariol from the Globe and Mail, gave this wine 90 points and stated in a recent review, "This is their first 100-per-cent all-estate chardonnay. Remarkable, too. Full-bodied and mellow, it shows surprisingly ripe pineapple and stone-fruit flavours, with a buttery texture enlivened by bright acidity. If this were made in California, it would easily fetch twice the price."
Although produced in limited quantities, you can still purchase some of the 2012 Chardonnay from the winery direct, via VQA stores and from select fine wine stores and restaurants. It is reasonably priced at $18.99 a bottle.
Cornucopia is a must-experience wine and food festival held annually in Whistler. It celebrates an exemplary culinary scene and impeccable wines, offering a truly sensory experience, with winery dinners, interactive seminars, gala wine tastings and electric after-parties. For more information, visit www.WhistlerCornucopia.com
Fort Berens Estate Winery is the first winery in Lillooet, BC. It is located on a sage-brush covered bench at the base of the Fraser Canyon's snow-capped mountains. For more information, call 1.877.956.7768, visit www.FortBerens.ca, or follow them on Facebook and Twitter.

FOR IMMEDIATE RELEASE
October 22, 2013
Reaching a New Milestone!
A groundbreaking event at Fort Berens Estate Winery
LILLOOET, BC. The Fort Berens Winery team furthered their plans to pioneer a new frontier by officially breaking ground for the building of the first winery in Lillooet. Rolf de Bruin, founder and one of the owners of Fort Berens, recalls the early days in 2009 when they first decided to plant vines on the property. "We hoped that day marked the first in a series of milestones for Fort Berens and Lillooet. We are pleased to be here together today to mark another major milestone."
Rolf continued, "We are excited to break ground on this new building. It's been a 3-year process. We needed to first prove the viability of the grape-growing from our vineyard, assemble our ownership team, get our financial and strategic plans in place, and consult with experts in the industry. The design of the building went through a number of iterations over the 3-year process. We talked to experts in this field to help us design the layout and to maximize space and efficiency."
The new 9,500 square foot building will include a 1,100 square foot tasting room, overlooking the vineyards with a gorgeous view of the mountains in the background. It has been designed to allow visitors to watch the winemaking process and see the internal workings of the winery through the windows as they approach the tasting room. It will also feature a gravity fed fermentation room, barrel chambers, crush pad, wine bar and bistro.
Rolf's wife and winery co-founder Heleen Pannekoek continued, "Each year, we have seen increased demand for our wine. We produced 4,000 cases in 2012, we estimate 5,000 cases this year and we are planning for 6,000 cases in 2014. Once the new building opens, we will have capability to fully process up to 12,000 cases onsite. This additional capacity will allow for our own future growth in coming years. We also very purposefully built in extra capacity to help facilitate the custom crushing of grapes from other growers in our area. We are very committed to working with others in Lillooet and facilitating more grape and wine production in this area."
The new winery takes the committed investment into Fort Berens to $7.5 million. It was designed by collaborating architects David Agro from Toronto and Richard Newell from Vancouver and is being built by Okanagan-based Greyback Construction.
Like the importance of understanding the unique terroir in determining which grape varietals to plant, the architects leveraged locally sourced materials to reflect the local terroir. Agro explained, "We are using concrete manufactured in Lillooet and rough-cut Douglas Fir milled across the road from the new winery as primary structural materials. This combination of elemental materials and a spectacular view of Lillooet will provide a functional, warm and welcoming atmosphere in the tasting room. The concrete lower floor of the building will be sunk into the ground to help mitigate swings in temperature and humidity in the barrel rooms. The use of materials, the orientation of the building, and an overhanging roof will help make the building as efficient as possible and help manage ongoing energy costs."
On hand at the milestone groundbreaking event were Fort Berens' Toronto and Vancouver based co-owners, Hugh Agro, Sean Harvey and John McConnell. Hugh Agro, a pioneer spirit himself with a background in mining and exploration, first started visiting Lillooet in 1993 and immediately took a shine to the area.
In 2010, Hugh joined Rolf and Heleen and shortly after brought on fellow mining colleagues Sean Harvey, John McConnell and Jason Neal to round out the ownership team. "We believe in the long term prospects for agricultural land in British Columbia and we think that there is a bright future growing grapes and making quality wines in the Fraser Canyon", said Agro. We're committed to building a viable business of which the community of Lillooet, our peers in the British Columbia wine industry and we as owners can be proud", he added.
Wine industry expert Harry McWatters has been a consultant to the Fort Berens team since the beginning. The thing that has inspired Harry the most about the growth of the winery is the way the local Lillooet community has embraced Fort Berens. "People in the community talk about this being 'Lillooet's winery'", he said. "The way the land is situated in the valley, about 80% of Lillooet's residents can see the vineyard, so the community is very supportive and interested in this project. It's that very support that will help Fort Berens continue to make milestone moves like this for their community."
Christ'l Roshard, former Mayor of Lillooet, was also on hand for the groundbreaking event. She has been championing Lillooet as a viable grape growing region for many years and is thrilled to see the evolution and growth of Fort Berens. She proclaimed, "It's been a long time since we have had this kind of private capital investment in Lillooet. This investment will help provide sustainable employment for our region and provide a big boost to Lillooet's growing wine and agri-tourism industry."
Rolf, who wrapped up the ceremony with a tour of the site, laid out the timeline for the building plans, targeting a goal of the summer of 2014 to open the new tasting room.
Fort Berens Estate Winery is the first winery in Lillooet, BC. It is located on a sage-brush covered bench at the base of the Fraser Canyon's snow-capped mountains. For more information, call 1.877.956.7768, visit www.FortBerens.ca, or follow them on Facebook and Twitter.

Recently, various wine critics reviewed our wines and this is what they had to say about our wine:
90 points for Cabernet Franc 2011
The grapes for this Franc are from 65% estate fruit with the rest sourced from the Black Sage Vineyard in South Okanagan. The nose shows currants, bramble, anise, stewed herbs, licorice and a basket of red berries and spice. It's a substantive CF with bold and spicy fruit delivered on a firm tannic backbone with enough acidity to keep it fresh and lively.
Rick VanSickle – September 30th 2013
90 points for Chardonnay 2012
At just over 50 degrees latitude, Fort Berens, in Lillooet, sits at the northern limit of the wine-grape belt. But it's blessed with clearer skies and drier air than pretty much any other wine district at that boundary. Owners Rolf de Bruin and Heleen Pannekoek had been sourcing chardonnay from the Okanagan to supplement their estate fruit because it takes time for vines to yield much quality fruit. This is their first 100-per-cent all-estate chardonnay. Remarkable, too. Full-bodied and mellow, it shows surprisingly ripe pineapple and stone-fruit flavours, with a buttery texture enlivened by bright acidity. If this were made in California, it would easily fetch twice the price.
Beppi Crosariol – Globe and Mail – September 17th 2013

To serve you better:
We are launching a new website
We are building a new winery
We are .... growing (up)
As a young business there seems an endless stream of projects all aimed at serving you better. Working under tight financial constraints, most projects should have started many months ago, perhaps even years. However, we choose to postpone until we were sure that these assets would be used to its full extent.
Our website was initially, just a bill board with some information about our business. Moving to our new website on the Vin65 platform will allow visitors to the website to purchase wine online and complete the entire transaction online. It provides a safe and secure environment to purchase wine and sign up for our wine club. Particularly, the capability to manage our wine club was the real reason to implement this new website. Hopefully, it will allow us to more consistently and accurately follow up on the numerous special requests we receive with every shipment we do. As a small winery, we would like to accommodate the special wishes from our club members. This site will also allow us to better integrate posts on Facebook, twitter, this blog and other media without the need to repeat ourselves too many times. Hopefully, you will enjoy the improved shopping (and browsing) experience.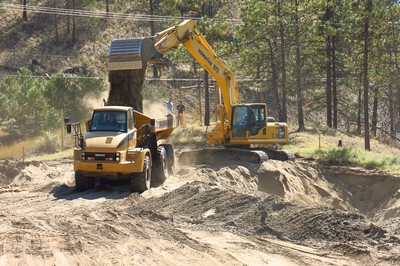 The new winery is a huge project that we have worked on for many years. We have postponed the start of the construction a number of times. Recognizing that starting a vineyard in Lillooet is risky business, we wanted to wait to see how the vineyard matured and how our wines from Lillooet were received. Fortunately, we are overwhelmed on both accounts. We are very grateful for how well the wine has been received. Consumers in Whistler, Kamloops, Vancouver and many other places in British Columbia have sought out and embraced our wines. Buying wine from a new region is perhaps as risky as starting a vineyard in a new region, as does not have to be successful. We therefore are very grateful to those that took that risk, purchased our wines and found that the wines are well above expectations for such a new region and subsequently shared our wine with friends and family. Thank you.
The new winery will allow us to make all our wine on site. The design team led by David Agro, included wine makers, owners, marketers, sales staff and many other people that provided great insights to what we wanted to be able to do in the building. In addition to functionality, we wanted to allow guests to experience what it takes to make wine. In our old winery, visitors see tanks, barrels and equipment while tasting. They can smell, hear and almost feel every step in making wine. It does pose some operational challenges as you can imagine: cleaning tanks with our hot water pressure water is a noisy and steamy process that does interfere with a casual and relaxed wine tasting. In the new design, we decided that we would replicate the Big Brother principle, where the winemaker would be working in a transparent space. As you approach the winery, you can walk across the crush pad and look through the glass doors in to the fermentation hall. While visiting the tasting room, windows down into the fermentation room allows guests to peel into our production space and see the winemaker at work.
The building should be completed in the summer of 2014, just in time for bringing in the harvest from our vineyard in Lillooet. We hope you will stop by some time, either to visit our rustic old winery this year or our new facility next year.