Vineyard Technician (apprentice)
Full time, year-round
Fort Berens is looking to expand our team with a high-potential candidate, who is willing to start a steep learning curve in all aspects of the vineyard and winery. You will receive training on-the-job by our vineyard manager (around 85% of the time) and winemaker (around 15%) and you will also be expected to follow external training programs. You will be fully trained to become a future vineyard manager.
Responsibilities:
Pruning, planting, thinning and harvest in the vineyard throughout the year;
Operation and maintenance of tractor and other vineyard equipment;
Assisting the vineyard manager in the development and implementation of the vineyard plan;
Record keeping on execution of the plans;
Trellis and irrigation system maintenance;
Assisting the winemaker in the cellar, processing fruit, pressing, filtering, bottling and cleaning;
The Vineyard Technician must be willing to work non-standard hours, including evenings and weekends, as needed.
Qualifications:
Physically fit and willing and able to work outdoors throughout the year in heath, cold, rain, etc;
Goal-driven and highly motivated, with initiative and the desire to increase knowledge and skills;
Interest in plants and nature are necessary. Vineyard experience and a passion for viticulture are a plus;
Willing and able to follow multiple relevant vineyard training programs, both on-the-job as well as external, e.g. the a 3-month full time course from Okanagan College in Pentincton (Jan. 2021);
A team player, able to work and interact with many different players;
Mechanically inclined;
Able to work with computer programs like Word, Excel, Powerpoint, etc.;
A BC driver's license is required. Other tickets like: Pesticide Applicator Certificate; First Aid Level 1 and Forklift certification, are a plus.
Offer:
This is a full time, year-round salary position. Starting salary and benefits according to experience.
How to apply / contact information:
Send your resume plus a motivational letter/email before January 31st to:
Heleen Pannekoek, owner. Email: heleen@fortberens.ca
Fort Berens Estate Winery
PO Box 758, Lillooet, BC V0K 1V0
cell: 778-209-7024

To serve you better:
We are launching a new website
We are building a new winery
We are .... growing (up)
As a young business there seems an endless stream of projects all aimed at serving you better. Working under tight financial constraints, most projects should have started many months ago, perhaps even years. However, we choose to postpone until we were sure that these assets would be used to its full extent.
Our website was initially, just a bill board with some information about our business. Moving to our new website on the Vin65 platform will allow visitors to the website to purchase wine online and complete the entire transaction online. It provides a safe and secure environment to purchase wine and sign up for our wine club. Particularly, the capability to manage our wine club was the real reason to implement this new website. Hopefully, it will allow us to more consistently and accurately follow up on the numerous special requests we receive with every shipment we do. As a small winery, we would like to accommodate the special wishes from our club members. This site will also allow us to better integrate posts on Facebook, twitter, this blog and other media without the need to repeat ourselves too many times. Hopefully, you will enjoy the improved shopping (and browsing) experience.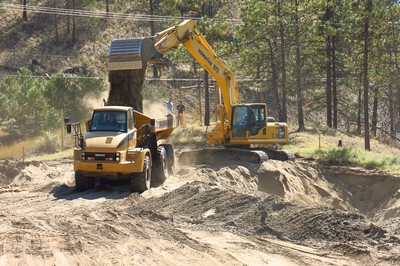 The new winery is a huge project that we have worked on for many years. We have postponed the start of the construction a number of times. Recognizing that starting a vineyard in Lillooet is risky business, we wanted to wait to see how the vineyard matured and how our wines from Lillooet were received. Fortunately, we are overwhelmed on both accounts. We are very grateful for how well the wine has been received. Consumers in Whistler, Kamloops, Vancouver and many other places in British Columbia have sought out and embraced our wines. Buying wine from a new region is perhaps as risky as starting a vineyard in a new region, as does not have to be successful. We therefore are very grateful to those that took that risk, purchased our wines and found that the wines are well above expectations for such a new region and subsequently shared our wine with friends and family. Thank you.
The new winery will allow us to make all our wine on site. The design team led by David Agro, included wine makers, owners, marketers, sales staff and many other people that provided great insights to what we wanted to be able to do in the building. In addition to functionality, we wanted to allow guests to experience what it takes to make wine. In our old winery, visitors see tanks, barrels and equipment while tasting. They can smell, hear and almost feel every step in making wine. It does pose some operational challenges as you can imagine: cleaning tanks with our hot water pressure water is a noisy and steamy process that does interfere with a casual and relaxed wine tasting. In the new design, we decided that we would replicate the Big Brother principle, where the winemaker would be working in a transparent space. As you approach the winery, you can walk across the crush pad and look through the glass doors in to the fermentation hall. While visiting the tasting room, windows down into the fermentation room allows guests to peel into our production space and see the winemaker at work.
The building should be completed in the summer of 2014, just in time for bringing in the harvest from our vineyard in Lillooet. We hope you will stop by some time, either to visit our rustic old winery this year or our new facility next year.