Our Team
"The strength of the team is each individual member.
The strength of each member is the team."
- Phil Jackson
In addition to our incredible ownership team, we also have an amazing team of up to 30 employees who have come to work at Fort Berens as part of their own journey. Each of us took different paths to get us to this location, but we are all held together here by our passion for discovery and our commitment to building the long-term sustainability of our business and the region.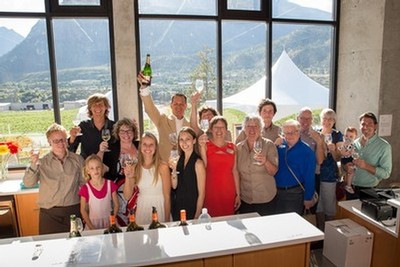 Fort Berens Estate Winery is governed by a five-person board comprised of Hugh Agro, Dan Barnholden, Rolf de Bruin, Raymond Rae and independent director, Kenn Oldfield, founder of Tinhorn Creek Vineyards.
Rolf de Bruin and Heleen Pannekoek share the management duties. Heleen also is responsible for sales to restaurants and liquor stores. Rolf is responsible for all sales direct to consumers.
Celebrated winemaker, James Cambridge, joined the Fort Berens team in 2019. Along with a degree in Viticulture and Oenology from Niagara College, James has more than 15 years of experience making wine in both the Okanagan and Ontario. James was a foundational winemaker when he worked for Fort Berens in 2012. He produced our exceptional 2012 vintage under trying conditions. In many ways his wines set the benchmark for our Riesling and Cabernet Franc. The 2012 Riesling won the Lieutenant Governor's Award and the 2012 Cabernet Franc won among other awards, a gold medal at the National Wine Awards. James set the bar from a quality level and from a stylistic point of view.
Jackie is our Discovery Club and Marketing manager. After 10 years in customer service and event planning, she decided to venture into the wine industry. Jackie holds a Sommelier level 1 certificate and is currently working on an advanced marketing certificate through University of Toronto.
Nicole Hutton is the Discovery Club and Event coordinator.
Karen Adams looks after accounting and bookkeeping.